Solicitors back industrial action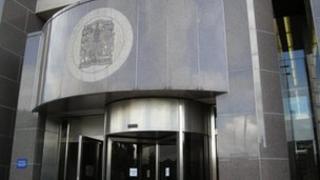 Defence solicitors in Glasgow have joined their Edinburgh colleagues in voting to take industrial action.
The move is aimed at putting pressure on the Scottish government to scrap changes to the legal aid system.
Concern centres on proposals that would mean people with a disposal income of £68 a week or more would pay a financial contribution towards criminal legal aid.
The Scottish government believes the measures could save £3.9m a year.
But solicitors argue that the change, which puts the burden on them to collect the money, may leave them out of pocket if clients do not pay.
Their concerns were supported by Holyrood's Justice Committee, which scrutinised the Scottish Civil Justice Council and Criminal Legal Assistance Bill.
Bernadette Baxter, president of the Glasgow Bar Association, urged the government to change course.
She said: "There was a unanimous vote of the Glasgow bar in support of the proposition for industrial action should the current bill be passed unamended.
"I understand that the Airdrie bar and Hamilton bar are also to vote and anticipate that their members will be at one with Glasgow and Edinburgh."
The Scottish government has said about 80% of people receiving legal aid would continue to pay nothing and that the Bill would end a situation where contributions are collected for civil cases but not for criminal cases.
A spokeswoman said it was anticipated that more than 80% of applicants for criminal legal aid will be unaffected by the changes.
She added: "We know that expenditure on legal aid in 2011-12 was £157.2m - despite savings, the second highest on record. We know that two thirds of that funding goes into criminal legal aid, and that 14 legal firms in Scotland claimed more than #1m in legal aid.
"We cannot maintain the current legal aid scheme without making the savings in the Bill. We need to ensure access to justice is preserved for all, including victims of crime whose needs will be met by this Bill."
The Law Society of Scotland has already raised concerns about part of the Bill which would mean solicitors having to collect the contributions themselves, arguing that this would turn them into "unpaid debt collectors".
The society said the Scottish Legal Aid Board is the "obvious body" for collecting the money.