Ryan Esquierdo admits killing Stuart Walker in Cumnock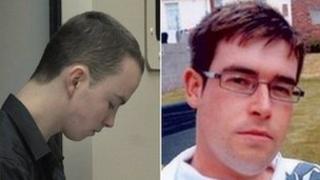 A teenager has admitted killing a gay barman who had tried to comfort him over his confused sexuality.
Ryan Esquierdo, 19, choked 28-year-old Stuart Walker to death at an industrial estate in Cumnock on 22 October last year before setting his body alight.
He was due to go on trial for murder but the Crown accepted his plea to the lesser charge of culpable homicide.
The High Court in Glasgow heard of Esquierdo's "uncontrollable rage" during the violent attack on Mr Walker.
The reduced charge was accepted following evidence he had been suffering from post-traumatic stress disorder at the time of the attack, due to being abused as a child.
Esquierdo, of Cumnock, also admitted to attempting to defeat the ends of justice.
Chance meeting
The court heard how Esquierdo and Mr Walker had been out separately in Cumnock on 21 October last year and later met each other "by chance" as they made their way home in the early hours of the following morning.
Esquierdo was lying on a wall apparently asleep when Mr Walker woke him and the pair then walked together towards the town's Caponacre Industrial Estate.
Prosecutor Andrew Brown QC said Mr Walker - who was openly gay - and Esquierdo then shared a conversation about the teenager's sexuality.
The court was told how Esquierdo previously had a number of girlfriends, but that his sexuality had been "the subject of discussion by his friends".
Mr Brown said: "Stuart Walker was only sympathetic with (Esquierdo's) conflicted position.
"The accused described feeling safe talking to Mr Walker."
The pair subsequently became intimate, which was consensual, but Esquierdo started to panic.
The court heard claims that Esquierdo had been sexually abused as a boy and that the situation he found himself in with Mr Walker induced "flashbacks".
"Explosive violence"
Mr Brown said this triggered an "uncontrollable rage" within the teenager and that Mr Walker was on the receiving end of "extreme and explosive violence".
The advocate-depute added: "The deceased would have had no warning or sense of what was going to happen."
Esquierdo bit, punched, kicked and stamped on Mr Walker, who was of far greater build than his attacker.
He then strangled his victim for about four minutes until he was dead.
Mr Brown told the court: "There is (CCTV) footage which may be the accused setting fire to his jacket which he placed on the deceased's body."
Esquierdo texted his friend Mary-Ann Dykes after the incident, claiming he and another boy had "just got jumped".
Miss Dykes arrived at the scene where she met Esquierdo who had been described as "a total wreck".
She found Mr Walker's charred body and stamped out flames on a piece of fabric at his shoulder.
Esquierdo called police and again claimed to an officer that there had been an attack by others and that Mr Walker had been set on fire.
The teenager was examined and initially released, but was detained for the killing days later following investigations.
Esquierdo told police: "I'll go to my grave saying I did not murder that man."
Complex crime
A large group of Mr Walker's family and friends was present in court.
Prosecutor Mr Brown said he had been a "well-liked figure" within the local community and that his death had been "devastating" to many.
The court was told psychologists had provided reports prior to the hearing and it was accepted that Esquierdo was suffering from diminished responsibility at the time.
It was concluded post traumatic stress disorder had sparked the brutal attack on Mr Walker.
Derek Ogg QC, defending, said the killing was "not a gay hate crime" and was instead "far more complex than that".
Mr Ogg added: "I would like to place on record Ryan Esquierdo's utter bafflement and horror that he could inflict such violence."
He is due to be sentenced next month.