Picking up the slack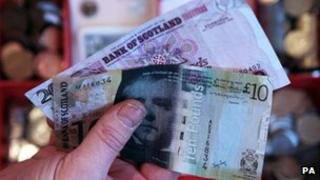 It's one thing to have a job, but if there's slack demand for what you do, how productive can you be?
Do you achieve less per hour if, for instance, fewer customers come through the door? Or do you work fewer hours per week?
It's those questions of productivity that are becoming more important to understanding the way the economy is working, or not working all that well.
The Fraser of Allander Institute reckons there is some evidence that Scotland's productivity may not be as bad as all that.
That's an inexact way of saying that it seems to have taken a different path from that of the rest of the UK.
While employment and unemployment figures are showing positive signs elsewhere, Scotland's jobs figures have recently shown an unwelcome divergence.
Yet it seems Scottish output has not followed the pattern.
Recession depths
In other words, output has fallen for Scotland and for the UK economies, but from its peak in the second quarter of 2008, it's fallen further in Scotland.
The depths of the recession, in the second to the fourth quarter of 2009, were slightly worse for the UK, but the recovery since then has been slightly weaker for Scotland.
By the second quarter of this year, the last point for which figures are available, Scottish output was 4.4% below its 2008 peak, while UK output was 3.82% down - ie the UK was closer to recovery. It may not seem a big difference, but it matters when it's a measure of the whole economy's output.
Ally that to the job figures, rather more Scots coming into the labour market, and the measure of the number of hours worked, for which the Scottish figure by this summer was more than 6% down on the middle of 2008, while the UK figure was 1.4% down.
With that, the Strathclyde economists conclude that productivity in Scotland probably rose faster, or fell by less, than the rest of the United Kingdom.
That's good news for the recovery and a return to an efficiently operating economy, but not such great news if you're trying to get a job.
It suggests, though doesn't prove, that employers and employees outside Scotland have been a bit more flexible about work patterns, to ensure they hang on to workers.
But the problem is that all the slack in these under-employed workforces means any rise in demand does not necessarily translate into new hiring.
Employers simply use their existing staff to take on the new orders. That's where you get fears of a "jobless recovery".
Start-up surge
And there's another indication of the way the economy is shifting as individuals respond to the circumstances of lay-offs and being blocked out of recruitment opportunities.
In 12 years of counting, company formation has never looked as strong. Nearly 31,000 new companies were formed in the year to last March, a rise of 9.9%.
A sign of entrepreneurial zeal putting booster rockets under the economy? Well, let's hope there's a bit of that.
But the figures suggest it might have more to do with those unable to sustain or find work in conventional jobs.
The vast majority of new companies were small, which is no surprise. Not many start-ups begin big. But 83% of them were not registered for VAT or PAYE.
That's not conclusive proof, but it does look like the boost has a lot to do with the pressure to find something to do when jobs are hard to find.
You can also comment or follow Douglas Fraser on Twitter: @BBCDouglsFraser