Online insight into Scots life in the early 20th century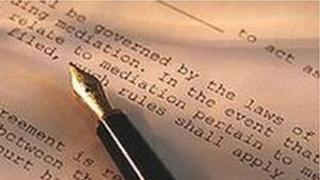 A picture of life in Scotland during the early 20th century can be viewed online following the publication of thousands of wills and testaments.
The records of 267,548 people who died between 1902 and 1925, have been put on the ScotlandsPeople website by the National Records of Scotland.
They include philanthropist Andrew Carnegie and engineer Lord Kelvin.
The records highlight the effects of major historical events, such as WWI and the suffragette movement.
The collection includes the wills of WWI soldiers, suffragettes and people who perished on the Titanic.
People from all social classes are included in the records from 35 millionaires to the impoverished inmates of the nation's poorhouses.
Audrey Robertson, National Records of Scotland, said: "We're proud to be marking the 10th anniversary of ScotlandsPeople by creating a major enhancement of our popular resource for Scottish family history.
"The additional testament entries from 1902 to 1925 will open up exciting new avenues for people in search of their Scottish ancestry."
Titanic victim
Curators hope the new records will not only be of use to historians, but also help people who want to trace their family history.
A letter in the collection became the final will of a passenger who died when the Titanic sunk in 1912.
Robert Douglas Norman, 28, from Glasgow was a second-class passenger heading from Southampton to Vancouver to meet his brother.
Before boarding the ship he wrote to his brother specifying sums of money to be left to various relatives in the event of his death.
It became his last will and he left an estate valued at £5,793, which would be worth in the region of £360,000 today.
One story found in the records is of Donald Stewart, head gamekeeper to Queen Victoria at the Balmoral Estate in Aberdeenshire.
Mr Stewart worked for the royal family for 53 years and collected a number of gifts from the family and their visitors.
His will states: "To my daughter Helena Stewart residing with me, I leave the gold watch and chain presented to me by the Emperor of Russia in 1896, and the diamond pin presented to me by his Majesty King Edward."
Culture Secretary Fiona Hyslop, said: "ScotlandsPeople is a wonderful gateway to Scotland's wealth of archives that tell the story of our nation and its people.
"These wills and testaments offer a compelling and moving insight into the lives of Scots a century ago and provide a powerful connection to our past."