Number of killings in Scotland falls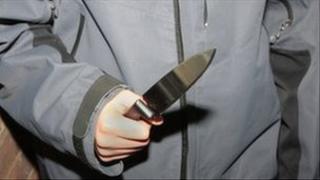 The number of killings in Scotland fell in the last year, figures from Scotland's chief statistician show.
A total of 90 people died in 88 incidents in the 12 months to March.
The number of killings was down by 28% over the last decade, with the number of cases falling 11% on the figures for 2010/11.
Just over half of the deaths involved a knife and 71 of the victims were men. A majority of the 124 people accused of homicide were also male.
Of that number, 52% were aged between 16 and 30.
In common with previous years, the figures showed most victims knew their killer.
The killer was an acquaintance of the victim in 60% of solved cases, while partners or ex-partners accounted for 14% of the deaths.
Of the 88 killings, 51 took place in Strathclyde, the country's largest police force area. Fifteen were in Glasgow, the lowest figure for the city in 10 years and a fall of 11 on the previous 12 months.
There were 10 killings in the Tayside force area, the highest for more than a decade.
Justice Secretary Kenny MacAskill said: "A drop of 28% in the number of homicide cases in the last a decade shows we are making progress in the battle against violent crime.
"However, this is no cause for celebration. Ninety lives have been lost.
"Behind these figures are victims and grieving families and my sincere sympathies go out to all those who have lost loved ones."
He said that despite the fall, the statistics showed the same pattern as in previous years.
"Most victims are male, knew their killer; most homicides take place in private residences, not on the street; and alcohol continues to be a key feature of homicide in Scotland.
"The number of people accused of homicide who are reported to be drunk at the time underlines the importance of bringing in minimum pricing to tackle alcohol misuse.
"We will continue to work tirelessly with our police forces, prosecutors and community organisations and together we will tackle violent crime wherever and whenever it occurs."