Prospective teachers face literacy and numeracy tests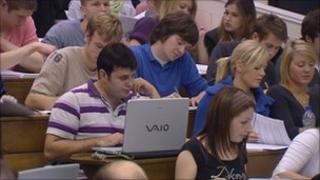 Prospective teachers are to be tested for competence in literacy and numeracy in a pilot project announced by the Scottish government.
Those who fail the tests in basic skills will be offered extra support during their training courses.
The government has also set aside £3m to pay for serving teachers to sit masters level courses.
The measures are being introduced after the Donaldson report, which considered ways of improving teacher education.
Education Secretary Mike Russell is also considering introducing a qualification which will eventually become compulsory for anyone aspiring to a head teacher post.
The Teaching Scotland's Future report, which was compiled by former HM Inspectorate of Education boss Graham Donaldson, was published last year.
It found that there needed to be wide-reaching changes in the entry route to teaching, teaching qualifications and continued teacher education.
Its 50 recommendations included proposals for the introduction of tests in reading, writing and maths for trainees as a way of driving up standards in Scotland's schools.
The Scottish government said last March that details needed to be worked out but that change would take place.