Review announced into Scottish student payment delays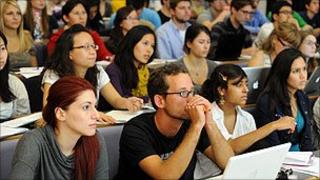 There is to be an inquiry into the problems which left thousands of Scottish students without funds for living expenses almost half way into term.
Students reported having to take out overdrafts and borrow from friends and relatives to pay for food and rent.
The Scottish government has now asked the Student Awards Agency for Scotland to review the applications process.
Ministers still expect the backlog to be cleared by the end of this week.
BBC Scotland reported last week that thousands of university students in Scotland were still waiting to receive vital bursary and loans cash.
The Scottish government said the applications still to be processed had been submitted after the 30 June deadline.
SAAS extended its helpline opening hours last week and over the weekend to try to clear the outstanding applications and said more staff would be deployed to answer calls from students.
'Applying lessons'
The review, commissioned by SAAS, will be led by David Wallace, deputy chief executive of the Student Loans Company, and will look at the processes for dealing with late and complex student funding applications.
Education Secretary Michael Russell said: "I understand the concerns raised by students about the time taken to process late and complex funding applications.
"This is a critical issue for those concerned and I am therefore pleased that David Wallace will lead an independent review.
"I believe his experience and expertise from the Student Loans Company mean he is ideally placed for this task."
Mr Russell said progress had been made over the last week and said changes to student support for next year would "simplify the process for many".
He added: "I can reassure students and their parents that SAAS will continue to work as quickly as possible to deal with all remaining applications for this year, while the review gives a head-start on learning and applying lessons for next year."
Mr Wallace will carry out the review between now and March and will report back to the chief executive of SAAS.