Emergency services gear up for busy Guy Fawkes night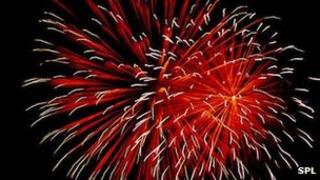 Emergency services across Scotland are preparing themselves for what they expect to be a busy Guy Fawkes night.
The chief officer of the new Scottish Fire and Rescue Service, Alasdair Hay, has urged people to attend organised events as the best way to stay safe.
Firefighters said there was normally a rise in anti-social behaviour and violence towards crews on 5 November.
Service bosses said they would work closely with police to report offenders.
In the Strathclyde area, a fleet of mobile CCTV vans will be deployed across Glasgow to record events and stream pictures live to Strathclyde Police control room.
A sweep of the city has already been carried out by fire crews to identify and remove unsafe bonfires.
Assistant chief officer Lewis Ramsay, director of community safety at Strathclyde Fire & Rescue, said: "I would urge the public to attend official bonfire events this year and join the fight against fire.
"Not only is it the best way to stay safe, but careless bonfires take crews away from serious incidents in our communities - so choosing to attend organised events will protect people, property and ensure our firefighters can get to where they are most needed."
Details of organised bonfire displays can be found most local authority and fire service websites.