Ash dieback disease: Survey of Scottish tree stocks launched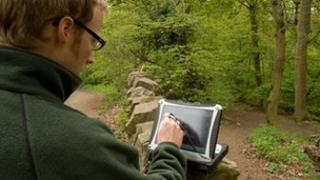 A major survey of Scotland's tree stocks is under way to assess the scale of a fungal disease which is threatening to wipe out the nation's ash trees.
More than 150 Forestry Commission staff, and a Scottish government team, are working round the clock to look for signs of Chalara ash dieback.
In the last six weeks 100,000 ash trees have been destroyed in the UK.
The study is expected to be completed by Tuesday night.
In February the disease was found in a consignment of trees sent from a nursery in the Netherlands to a nursery in Buckinghamshire, England.
Since then it has been found in a number of locations in England and Scotland, including East Anglia, a car park in Leicester and Forestry Commission woodland at Knockmountain, near Kilmacolm, in Inverclyde.
A small number of young trees have been destroyed in the Carrbridge area of the Cairngorms National Park, although test results have yet to come back.
A UK-wide investigation is underway to trace the original source of the diseased trees.
The commission said all of the sites had received stocks of young ash plants from nurseries within the past five years.
Further cases have also been confirmed in the nursery trade.
Tree death
It is expected to take several days to establish whether or not the deadly fungus has been stopped from spreading into the wider environment and native woodlands.
Chlara dieback of ash is caused by a fungus called Chalara fraxinea.
The disease causes leaf loss and crown dieback in affected trees, and it can lead to tree death.
Ash trees suffering with the newly identified pathogen have been found widely across Europe, with disease infecting up to 90% of ash trees in some areas of Denmark.
These have included forest trees, trees in urban areas such as parks and gardens, and also young trees in nurseries.
Paul Wheelhouse, Environment & Climate Change Minister, said: "Currently we have just two confirmed cases of the disease in Scotland but we expect that number to rise as the rapid survey progresses.
"We need to take unprecedented action to get a quick snapshot of how our ash trees are fairing in the wider forest and woodland environment.
"We need to know this quickly and all involved have rallied together to quite literally work round the clock to obtain this information."