Ian Rankin and the fear of page 65
Britain's most successful crime writer, Ian Rankin, let the BBC follow him from the beginning as he put together his latest novel. Rankin, the creator of the phenomenally successful Edinburgh detective Rebus, writes one book a year - starting the process by looking for ideas in a green folder full of scraps of paper.
By the end of the first month "the fear" has arrived.
It is hard to believe that an author who has topped the bestsellers' list for the past 15 years would have concerns but Ian Rankin worries that what he has written so far is "not very good".
His wife Miranda Harvey, who says she knows to keep out of Rankin's way when he is writing, takes this opportunity to remind him that this happens every time.
She says: "We always talk about the 65-page pause, where he has poured on to the page all of the things he has thought about and rehearsed.
"All his ideas are down in black and white and then he runs out of steam and he's always saying 'it's going really badly'.
"I say: 'oh, yes, page 65'."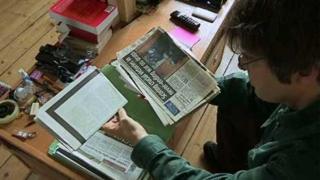 A video diary Rankin kept for the BBC shows the writing process starting slowly, with the author preferring to get his haircut and complete crosswords in his local cafe.
He flicks through his folder of clippings and scribbled ideas for inspiration.
"The church and the NHS working together on exorcism, a deaf kid who sees something he shouldn't, a doctor who claimed to have saved lives on 7/7 who turned out not to be a doctor at all," Rankin reads from his folder.
All interesting ideas but they do not grab him.
"Guy going up and down A9 seeking missing daughter," he spots an idea in his pile of notes.
A separate newspaper cutting says: "How can a young woman vanish without leaving a single clue behind?"
These are the seeds from which Rankin's new novel will grow.
The 52-year-old author's previous two novels have featured Malcolm Fox, the whiter-than-white Internal Affairs officer, but his best-known character is the hard-bitten Edinburgh cop DI John Rebus - a leathery maverick, who refuses to play by the rules.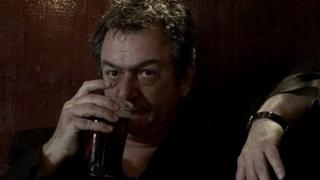 Seventeen Rebus books and a popular TV series have made Rankin a household name and a millionaire.
However, having written the book in "real-time", Rankin was forced to retire Rebus five years ago, when the detective hit 60.
But now Rankin is bringing him back. He says this is as much as a surprise to him as it will be to his army of fans.
"I was not planning a comeback quite this soon for him," he says.
"I was thinking of bringing him back at some point in the future but the nature of the theme I wanted to explore, the nature of the plot, I thought he was the best person for it."
A real-life funeral was the catalyst for Rebus's return.
With the memory fresh in his mind, Rankin sits down and writes about a man at a cemetery, watching from the back. It occurs to him that this is Rebus.
The author says: "He does not want to be too close to mortality. He does not want to see the open grave.
"Then I had to think - 'is his voice still in my head?'. Do we have some unfinished business between us?"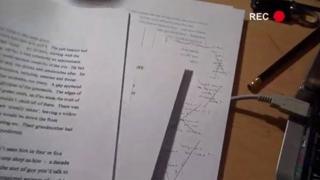 But Rankin is worried again.
He is concerned people might think the return is a "retrograde" step, an admission that Malcolm Fox has failed as a character.
He knows he will have to face interviewers and reviewers who will level this accusation and at the back of his mind is fellow Edinburgh writer Sir Arthur Conan Doyle who threw his most famous character, Sherlock Holmes, off a cliff, before later bringing him back from the dead.
Conan Doyle's readers were delighted but the author confessed to a nagging guilt about the contrivance.
How can a writer like Rankin, who prides himself on his realism, justify Rebus's return?
Rankin says: "He retired at the end of Exit Music but in that book it was intimated that what he would do would be to apply to join the cold case unit, which exists in Edinburgh, and which is staffed mostly by retired detectives, who look at old unsolved cases.
"Well the idea I got for the book involves an old unsolved case.
"I thought there is no way I can shoe-horn Malcolm Fox into this narrative.
"It would be a lot easier if Rebus did actually go off and had joined the cold case unit as a civilian working for the police. And then this fell into his lap."
The title of the new Rebus novel, Standing in Another Man's Grave, is what Rankin calls a "mondegreen" - a misheard song lyric.
Mishears the song
Rankin misheard the title of the late Fife singer-songwriter Jackie Leven's Standing in Another Man's Rain and in the novel Rebus does the same.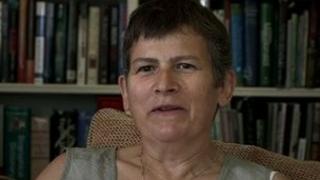 Rankin says: "It opens with Rebus at a graveside. He then goes to his car, there is a Jackie Leven CD playing and he mishears the song. He does exactly what I did."
This is what Rankin loves, taking the messy mondegreens of life and giving them shape in the novel.
But that process is not an easy one for him.
He likens the first draft to being a detective, finding the clues to where it will lead.
Rankin says: "The first draft is me feeling my way to a solution and usually it turns out to be different from where I thought it was going to go, which is a thrill, but I would not recommend it as a way of writing a book."
By the start of March, the first draft is finished.
"It's ragged, very ragged. I'm not at all happy with the last 30 or 40 pages," Rankin says.
"I don't think I'd ever written a book where so close to the end I had no idea who the offender was. I got some crazy ideas in the course of writing this book as to who the killer might be."
Before he starts on the second draft, Rankin embarks on a fact-checking mission, retracing Rebus's journey up the A9 in the north of Scotland.
"It has become quite important to me that I get the details right," he says.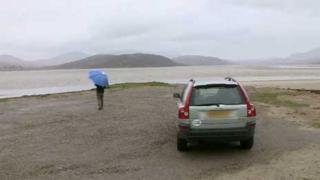 "It didn't used to be in the early days. But now I am making a pretty good living telling lies about real professions I think I owe to the people who do those professions to get the details right."
The third draft is done by the start of May and his editor gets involved. It is the first time anyone else has seen the novel.
By the end of June it is delivered to the publishers but have all his fears been allayed?
Above Rankin's computer is a quote from Iris Murdoch: "Every book is the wreck of a perfect idea."
Rankin says: "When you write a book, you write for your own entertainment and you finish it to your satisfaction.
"At that point it is the perfect novel.
"Then you start showing it to people and it ceases to be the perfect novel."
Ian Rankin and the Case of the Disappearing Detective is on BBC One on Tuesday 6 November at 22:35 and available later on the iplayer.