Scots children from poor backgrounds 'fail before school'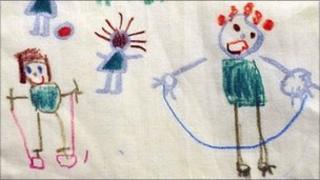 Children who live in poverty in Scotland are already failing before school starts, a new study has said.
The Save the Children report suggested youngsters from poorer backgrounds were twice as likely to start primary school with developmental difficulties.
The research was based on 3,000 children aged five from different socio-economic backgrounds in Scotland.
The study found poorer children were twice as likely to have emotional and physical development difficulties.
They were also twice as likely to have problems with communication and expressing themselves or making themselves understood.
The report's authors said poorer youngsters were 50% more likely to face difficulties mixing with other children and were 40% more likely to be behind in their cognitive development - the ability to gain knowledge and learn.
'Glaring gap'
Douglas Hamilton, Save the Children's head in Scotland, said: "The long-term ramifications of these developmental difficulties for children in poverty are very serious.
"To discover that this 'developmental divide' begins before a child even starts school is incredibly worrying.
"Ultimately, the consequences of this glaring gap are found in reduced future opportunities and life chances of children who live in poverty."
The organisation said figures from later in the education system showed that these children begin their school life behind their classmates and never catch up.
The charity, which carried out the study with Scotcen Social Research, wants the Scottish government to take a number of measures to better support children in their early years.
'Early learning'
Paul Bradshaw, from Scotcen, said: "Whilst previous studies have relied on test results for individual developmental areas, this is a more holistic measure designed to tell whether or not Scotland is succeeding to be the best place in the world for a child to grow up."
A spokesman for the Scottish government said: "It is completely unacceptable that any child in Scotland lives in poverty. This government is doing all we can within the devolved powers to tackle this problem head on, with the aim of eradicating child poverty by 2020.
"Supporting our vulnerable young children is essential and the Children and Young People Bill will increase the entitlement to funded early learning and childcare to a minimum of 600 hours per year for all three and four-year-olds and two-year-olds who are looked after.
"This report reinforces the importance of our commitment to early intervention in the early years."