More staff to help Scottish students waiting for payments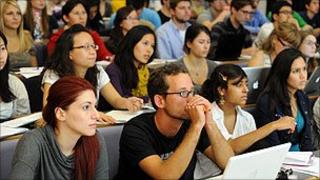 More staff have been deployed to answer calls from Scottish students about their support payment applications.
It comes after the BBC learnt that thousands of university students had not received payments for living expenses such as food and rent.
The opening hours of the Student Award Agency for Scotland's (SAAS) helpline will be extended.
Experienced staff from other teams will also work with contact centre staff to boost the helpline.
The service will open from 08:00 and will also be staffed this weekend.
On Wednesday, SAAS said almost 6,000 applications had not been processed.
Student leaders have called for an inquiry into why so many bursaries and loans had not been distributed.
The Scottish government said all current outstanding applications would be cleared by next week.
Education Secretary Mike Russell said: "I understand how vital living support is to students and the uncertainty outstanding applications can cause.
"That is why I have asked SAAS to pull out all the stops and ensure the remaining 4% of late applications are dealt with urgently.
"These increased opening hours will ensure students can get access to help and information when it is most convenient."