Scottish independence: UK ministers not seeking advice on Scotland in EU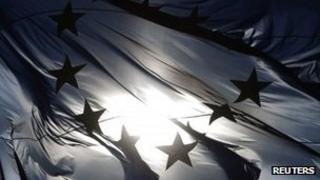 The UK government has said it would not ask the European Commission's view on whether an independent Scotland would remain a member of the EU.
The statement follows confirmation from the commission that it would offer its opinion if asked to by a member state.
Previously the EC's position was that Scottish independence was a UK matter and not one it could speculate on.
The Scottish Labour Party has now urged UK ministers to ask the EC what its view would be.
However, the UK confirmed to the BBC that it did not intend to make such a request before the referendum on Scottish independence, scheduled to take place in the autumn of 2014.
A spokesman for the UK government said: "The UK government does not obtain its legal advice from the European Commission.
"We are clear that we are not pre-negotiating the terms of separation from the UK ahead of the referendum. It is the Scottish government's policy on independence which is causing this uncertainty and they should be prepared to deal with the many questions it raises."
The question of whether an independent Scotland would automatically retain EU membership has been at the heart of the constitutional debate in recent weeks.
The Scottish government has maintained throughout the debate that if the country voted for independence it would automatically remain a member of the EU.
A spokesman said: "As many legal and constitutional experts have confirmed, Scotland is part of the territory of the European Union and the people of Scotland are citizens of the EU - there is no provision for either of these circumstances to change upon independence."