Analysis: An independent Scotland's place in the EU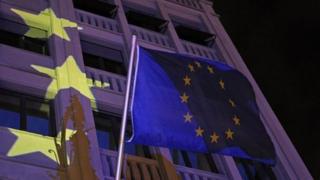 Clarity. That's what everyone says they want in the ongoing row about an independent Scotland's relationship with Europe.
Up until now it's been in short supply.
The European Commission in particular has struggled to make its position clear.
Last month, commission spokesman Olivier Bailly said that a newly independent state - like Scotland - "would not be part of the EU" and would have "to make a request for accession".
The next day, Mr Bailly had to clarify his remarks, saying they didn't apply to Scotland and couldn't be taken as an indication of Commission policy.
His boss, Commission President José Manuel Barroso, told the BBC that it wasn't his job to speculate on possible successions, before going on to muddy the waters further.
"A new state," he said, "if it wants to join the European Union has to apply to become a member."
The crucial word there is "new".
The Scottish government argues that after independence Scotland and the rest of the UK would both inherit the treaty obligations of the old UK, including EU membership, and so neither would be a "new state".
'Unilateral declaration'
Commission vice president Viviane Reding then waded in, telling the Diario de Sevilla newspaper in Spain that "international law doesn't say" that an independent Catalonia would be outside of the EU.
That prompted an angry response from Madrid, with the Spanish Foreign minister writing to Ms Reding to ask that the Commission "speak with one voice" on the issue.
In her letter of apology - which was promptly leaked to El Pais - Ms Reding said that the Commission's view coincided fully with that of the Spanish EU minister, that the Union couldn't "recognise a unilateral declaration of independence from one part of a member state".
For Scots in search of clarity, that's still not much help as Edinburgh and London have now agreed on the referendum process meaning that - unlike in Catalonia - no-one is talking about a unilateral declaration.
'Member state'
Helpfully, on the same day that agreement was signed between Alex Salmond and David Cameron, the Commission said that they would be happy to offer their opinion on the legal consequences under EU law, "on a request from a member state detailing a precise scenario".
For us, that "member state" is the UK government.
The Commission has confirmed to me that they haven't received any such request from any member state.
Neither, I understand, has the Scottish government called upon their Westminster colleagues to make a request on their behalf.
Which begs the following question: Given all the raised voices and hot tempers about the EU at Holyrood this week, why is no-one taking the Commission up on their offer?