Greg Hemphill and Robert Florence get serious about wrestling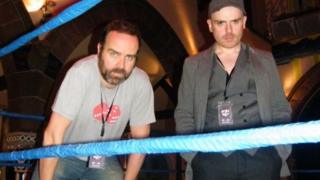 "Train for six months and I'll see you in the ring," says Burnistoun star Robert Florence as he challenges Still Game's Greg Hemphill to a wrestling match.
The ultimatum came after a riotous night at Glasgow's Oran Mor, which saw the comedians become promoters for a professional wrestling contest.
Team Hemphill and Team Florence were an assemblage of the finest male and female Scottish wrestling talent, grappling for a sell-out audience who were ready to believe the Twitter rantings of the comedians, who claim this is a sport whose return is well overdue.
They may be comedians but it seems that when it comes to wrestling they are deadly serious about wanting it to regain its popularity and prominence in the nation's culture.
The problem they have is the image of UK wrestling which is largely remembered as the 1970s and 80s version shown on ITV's World of Sport, with stars such as Big Daddy and Giant Haystacks.
Hemphill, 42, says: "The next person that says they love wrestling from the early 80s, I'm going to knock their teeth out. Robert is going to put their teeth into a bowl and eat them like cornflakes."
The usually affable comedian, whose track record includes the highly successful Chewin' the Fat, is perhaps adopting a wrestling bad guy persona.
But he manages to convey his annoyance that wrestling is not taken seriously.
Florence, 35, is equally vehement, calling for the BBC, STV and Channel Four to get aboard the wrestling train.
He says: "The Scottish people don't realise how much gold they have got in their hands and the broadcasters need to show them it.
"We need to bring people and show them these young athletic men and women who are just fantastic at their jobs."
Oran War, as Sunday's contest was dubbed, was a chance for Hemphill and Florence to showcase the best Scottish wrestling talent.
They staged seven bouts in an upstairs room holding about 400 and Team Florence won the night 4-3.
It sold out with very little advertising, mainly due to social networking sites.
Such was the success that the pair plan to do it again next summer in a far bigger venue.
TV presenter Muriel Gray was at the Oran War and told BBC Scotland's Comedy Cafe: "I have been to several wrestling matches before and I have loved them.
"My granny was a big wrestling fan and I used to watch it with her.
"There was a guy called Jackie Pallo in the 70s and he was my big hero.
"I didn't think it was fake and I really believed it."
Fake. That's the most offensive phrase a wrestler can hear.
Among the wrestlers on the night was Red Lightning who has been performing in Scotland for 10 years.
He says people ask him: "Is it not all made-up?
"Aye, but Eastenders is made-up, Superman's made-up. People don't sit there and say 'oh, Batman's fake - a guy dressed as a bat, what's that about?'
"No, you suspend your disbelief."
Red Lightning says people who do not respect wrestling call it fake.
He adds: "I don't want to be famous. I just want a bit of respect from the public and people to acknowledge what we are doing and say 'good show, guys'."
Hemphill and Florence also shy away from such derogatory language.
They talk about spectacle, entertainment and story-telling.
The main event at Oran War was a bout between Lionheart and Noam Dar.
"It was like a pendulum," says Hemphill.
"The balance of power switched back and forth. The crowd were absolutely in the palm of these two guys' hands."
Florence adds: "They are amazing storytellers, these two people - to such an extent that me and Greg just forgot our rivalry for that match.
"We had the best seats in the house for one of the best wrestling matches I have ever seen."
For Florence, wrestling is a sport, unlike football, which does not let its audience down.
"The great thing about wrestling is that something amazing always happens, every time you watch it," he says.
Hemphill says he would not take his children to a football match but a wrestling crowd is much more his scene.
He says: "A wrestling crowd, as much noise as they make and as rowdy as they can be, are very geeky.
"They are like from a heavy metal/comic-book movie background, much like myself and Robert.
"We are wrestling fans and we are a gentle bunch."
Bigger venue
Florence says the aim of promoting wrestling is to bring together the Scottish 'stars' in a show everyone can watch and get to know them.
He says: "A wide age-range can watch these people. They know how to play to an over-18s audience and they know how to play to an audience of kids as well. These are incredibly-skilled, veteran entertainers."
The comedy pair now have eight months to get in training before they themselves wrestle.
Having been attacked by Hemphill at the end of the last contest, Florence challenged the older man to a proper bout.
Hemphill says: "I've accepted that challenge."
He wants to take the second night of wrestling to a bigger venue such as Glasgow's Kelvin Hall.
He says: "A place where 2,000 people can come and celebrate Scottish wrestling.
"We'll do it in the same room Jim Watt won his world lightweight championship.
"And just like he started a renaissance in Scottish boxing in the 80s we'll start a renaissance in Scottish wrestling in that very same historic arena."