Mouth cancer rising among young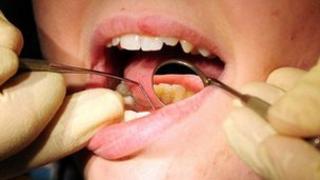 The number of Scots under the age of 45 who are being diagnosed with mouth cancer has seen a big increase, dentists have warned.
Almost 800 people are expected to be diagnosed with the disease this year.
In the past, the disease was mainly confined to men over 50 who were smokers or drinkers.
But a growing number of cases - about one in 10 - are being seen in younger people who do not smoke or drink heavily.
As yet, there is no explanation for these cases but potential risk factors could be poor diet, the spread of certain strains of the human papillomavirus (HPV) and even a possible lack of sunshine.
To mark Mouth Cancer Awareness Month, the Faculty of General Dental Practice (FGDP) said it would be encouraging dentists and hygienists to be vigilant in detecting mouth cancer.
'Suspicious signs'
Several dental practices across Scotland will also be running a "treatment for a donation" scheme where patients donate money to mouth cancer charity The Ben Walton Trust in return for their treatment.
A spokesman for the FGDP said: "Dental practices are on the front line for mouth cancer prevention and are being urged to emphasise Health Scotland's messages on diet, alcohol and smoking.
"At the same time the campaign will inform dentists about the growing need to look for suspicious signs of mouth cancer in younger patients.
"It is hoped that by identifying cases early they will not only lead to better survival rates but that research will help pinpoint the causes.
"Ultimately the goal is to give clearer guidance on how to reduce the risk of all cancers of the mouth so gathering demographic information is vital."
Biggest increase
Mouth cancer affects the lip, tongue, gums and mouth. Cancers which are associated with HPV are mostly found on the tonsils and pharynx.
Anyone who develops mouth ulcers or suspicious lesions and lumps, or sees red or white patches in their mouth or tongue which do not heal within two weeks, should make an immediate appointment with a dentist.
More than 6,000 people are now diagnosed with mouth cancer in the UK every year, making the disease the sixth most common form of cancer.
It is also the type of cancer which has seen the biggest increase in cases over the past 25 years.
In Scotland the figure is proportionately higher, taking into account population, at 770 cases.