Clydesdale hobbled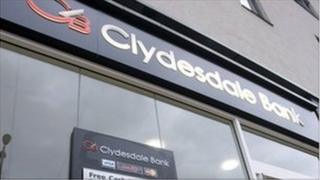 Late last night in Melbourne, news came through of an unhappy milestone for Scottish finance.
The canny smaller brother of Scotland's two giant banking delinquents registered its first full-year loss.
Clydesdale had prided itself on sailing a careful route through the credit crunch of 2008 and 2009.
Within three weeks of RBS being bailed out, this was chief executive Lynne Peacock reporting the 2007-08 profits:
"Differentiated in the UK by our adherence to the sound principle of a traditional business model, the prudent growth of our business has been supported by excellent cost control, a careful approach to funding as well as effective credit and risk management."
Those words are coming back to haunt her successor, David Thorburn, as he announces a £631m write-down on bad and doubtful debts in the last year alone, up by 88% on the previous year to September.
He told me this morning the figures are "disappointing, but not surprising".
It turns out that Clydesdale, which includes Yorkshire Bank, was far from prudent in its lending on commercial property, jumping on the Bank of Scotland bandwagon three or so years before it all went horribly wrong.
It also got involved in the mis-selling of payment protection insurance, for which it has set aside £256m in compensation.
It got into selling interest rate swaps to business customers, and along with other 'customer redress', that accounts for another £48m of provisions.
So viewed from National Australia Bank HQ, which has owned Clydesdale and Yorkshire since 1990, the UK subsidiary has become the delinquent family member, at a time when its antipodean core is doing well on the back of a much healthier economy than Britain's or Europe's.
Last year, the Melbourne bosses set about finding a buyer for Clydesdale.
It couldn't find one, so set about a re-structuring, which is taking it out of business centres throughout England and out of commercial property.
Some 1,400 jobs are to go by 2015, with nearly 500 gone in the past year. But even that level of cost cutting has been slower than the loss of income. So even if you take out the losses on bad debt, the profit was still down.
The strategy now is to focus on what Clydesdale used to do rather better, in retail and small business lending. And the 10% increase in mortgage lending, with current account customers on the rise, suggests it's getting at least that bit right.
But while the painful transition goes on, the most painful bit has been removed. On 5 October, National Australia Bank took on the £5.6bn commercial property loan book.
With that off Clydesdale's mind and books, this year's first ever loss ought to be its last.
You can also comment or follow Douglas Fraser on Twitter: @BBCDouglsFraser