Scottish winter death rate at record low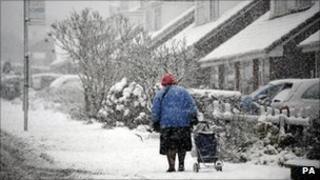 The number of winter deaths in Scotland has fallen to the lowest level since records began.
Statistics released by the National Records of Scotland showed that 19,119 deaths had been registered in the four months to March 2012.
That figure was down by 507 on the previous year and was the lowest total since records began in 1951/52.
Most deaths in winter are from conditions such as pneumonia, heart disease and stroke.
Frank Dixon, a statistician at the National Records of Scotland, said there had been a long-term downward trend in the figures.
"However, the five-year moving average, which smoothes out much of the year-to-year fluctuation, shows relatively little change in recent years," he said.
Cancer deaths
A series of other health statistics were released on Tuesday, including figures on the rate of death from cancer.
The ISD Scotland figures showed that death rates had fallen by 12% over the decade between 2001 and 2011.
However, the total number of deaths rose to 15,375 in 2011, the highest total since 1993.
The report said this rise was due to an ageing population, as cancer was a relatively common disease among the elderly.
The largest death toll came from lung, (4,178), bowel (1,526), breast (1,041) and prostate (900) cancer.
The death rate from breast cancer had fallen by 19% over the past decade, while there were reductions of 18% for bowel cancer and 9% for lung cancer.
Health Secretary Alex Neil said: "We have been making good progress in cancer treatment during the last two decades.
"Screening for breast, bowel and cervical cancers have been introduced, and cancer is being diagnosed and treated earlier thanks to advances in treatments and investment in staff and equipment.
"However, we are determined to do more to meet the challenge of rising cancer rates, including that posed by the aging population, and in particular take more action to improve cancer survival."
Care homes
Scottish Labour's health spokeswoman Jackie Baillie said: "The rise in cancer deaths in Scotland is deeply worrying and shows just how much more work we still have to do to tackle the underlying causes of premature death, which remain far too prevalent in our country, especially in our poorest communities."
Vicky Crichton, public affairs manager for Cancer Research UK in Scotland, said the fall in death rates was "very encouraging".
In addition, separate figures have suggested that 51% of people living in care homes have dementia.
The Care Home Census said 19,233 of the 37,335 residents had the condition, an increase of 22% since 2003.
The Scottish government attributed the rise to people living longer and better diagnosis of the illness.