Scanning for online sales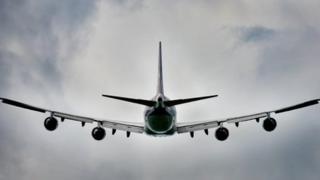 If there's one company in Scotland well placed to achieve the goal of being both a global player and a global consumer brand, it's probably Skyscanner.
It's less than 10 years since it was created in Edinburgh by three young men with computer programming skills and a lot of ambition.
Gareth Williams was one of them - he got into the idea when he found out how difficult it was to book a flight to visit his brother and go ski-ing in the French Alps. He's now chief executive.
The site has grown from 20,000 to 145 million searches a year, shifting nearly 3 trillion dollars-worth of air tickets, along with other travel essentials such as hotels and car hire.
Where, when and how much?
The clever bit (and forgive me - it's hard not to make this sound like a plug) is wrapped up in the software being worked on by a team of about 70.
The first Skyscanner app was launched last year, and it's already been downloaded more than 10 million times.
The proposition is that Skyscanner is not trying to sell you the ticket. It's linking you to others who will. In doing so, it's assuming that airlines themselves will get better at online sales, drawing more to their sites.
It appeals to consumers who want to find out which airlines fly where, when and for how much. And would it be more convenient or cheaper to go by rail? Skyscanner then redirects them, and takes a cut for doing so, averaging below 2%.
Tough Americans
While mobile traffic is growing throughout e-commerce, Gareth Williams reckons the appeal of researching travel works well for people who are already travelling, on a bus or train. Weekday research tends to feed through to transactions at the weekend.
For the Business Scotland radio programme, I visited the new office at Edinburgh's Quartermile development. It's been chosen to have space for a near doubling of the workforce in the next few years, to reach 300.
Skyscanner plans to open a Glasgow office - not to have a different team there, but to recruit from the west and allow people to split their time between the offices.
A new office has also been opened in Singapore, and Skyscanner has signed a deal with a major Chinese search engine to push into the giant market there.
The toughest market to crack, though, is going to be the US, partly because there are big search engines already dominating travel bookings there, including Kayak and Google, and also because there's a less confusing range of choice on air routes.
We also heard from the Renfrewshire company selling tea to China, we heard about the role of Edinburgh University's world-leading informatics department. And we heard from one expert who sees Scotland lagging the rest of Britain and lacking the huge ambition in China, arguing too many Scottish companies are treating e-commerce as an optional add-on.
You can also comment or follow Douglas Fraser on Twitter: @BBCDouglsFraser