Penrose blood inquiry: Call to hear more witnesses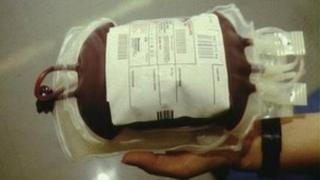 An inquiry into how hundreds of people were infected with hepatitis and HIV from NHS-supplied blood products has been told it should hear evidence from more witnesses.
Solicitors representing many of the victims want a small number of experts to be called to a new hearing to give evidence on statistics.
The inquiry, led by Lord Penrose, has already taken almost four years.
The judge will give a written decision on the witness call in due course.
The inquiry was set up by the Scottish government following a long campaign.
'Crucial evidence'
Lord Penrose has been examining how people received contaminated blood in the 1970s and 1980s.
Hundreds of people in Scotland are thought to have been exposed to infection, although experts giving evidence to the inquiry have differed in their estimates of the number infected.
Although 160 victims submitted statements when the inquiry was announced, Lord Penrose only allowed 20 to give evidence.
Those who have been at the centre of Scottish campaigns for justice said this meant crucial evidence from doctors and the state had gone unchallenged.
Patrick McGuire, of Thompsons Solicitors, which represents a number of people affected by the infected blood, said it was important to establish the scale of the tragedy.
But he said he feared the inquiry would stop short of producing a definitive figure relating to the number of people infected.
Mr McGuire added: "Over the course of many years, countless people, including victims, campaigners and legal teams have worked tirelessly to ensure this inquiry served its purpose.
"It seems that at this final but vital hurdle all hopes of achieving the answers these victims so badly need could be diminished.
"There appears to be a lack of appetite to go the extra distance to achieve the desired results, and if that is the case then this will come as a devastating blow to the victims and their families."
Lord Penrose's final report is expected next year.