Frankie Boyle gives libel damages to Reprieve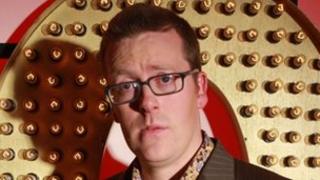 Comedian Frankie Boyle has pledged the £54,650 he won in libel damages to prisoner campaign group Reprieve.
Boyle, 40, from Glasgow, won his High Court battle with the Daily Mirror, which had described him as "racist" in a story last year.
On Monday, jurors awarded Boyle damages after concluding that the racist description was defamatory.
Boyle wrote on Twitter: "Here's the good people I'm giving my damages to. They do a lot of inspiring work."
Clive Stafford Smith, the director of Reprieve, said it was "very generous".
He said: "The funds will be put to good use for those people who need it."
Reprieve's website says it "uses the law to enforce the human rights of prisoners, from death row to Guantanamo Bay".
It says: "We investigate, we litigate and we educate, working on the frontline, providing legal support to prisoners unable to pay for it themselves."
During the defamation case, the comedian said The Daily Mirror had "misunderstood" the context of his use of language in jokes, adding the accusation of racism "goes against everything I've tried to do in my work, to do in my life".
Boyle said he had been "pretending" to be someone with racist views during the episode.
He said he had "actively campaigned" against racism and he thought it was "important" to highlight the issue in his routines by mocking the attitudes of racists, whom he "despised".