Warnings as Arctic blast brings snowfalls across parts of Scotland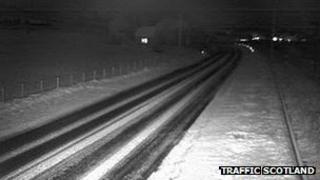 Snow is expected to continue in parts of Scotland until late on Saturday, forecasters have said.
On Friday, wintry weather swept across the country, bringing snowfall to the north east in particular.
Motorists were urged to drive with "extreme caution" around Aberdeen, with conditions particularly bad on the A90.
A police visit to speak to drivers on the A90, where 20-year-old Charlotte Tennant died a week ago, was cancelled due to the weather.
The young woman from Laurencekirk was found dead next to the A90 at about 08:00 on Saturday 20 October and officers had planned to revisit the scene.
Police said a number of routes in the Grampian area were affected by snow and ice and urged drivers to take extra care when travelling.
The Grampian force said some of the affected roads had not been gritted and warned drivers to adjust their speed according to conditions.
A956 crash
Police said the A939, which was closed earlier because of snow and ice, has reopened.
A crash also closed the A956 Wellington Road for about eight hours.
Grampian Police said a 35-year-old man driving a white Mercedes van lost control and collided with a lorry parked in a lay-by at about 04:45.
He was taken to Aberdeen Royal Infirmary with a head injury, and his condition was described as serious but stable. The lorry driver was not injured.
Insp Ewan Innes said: "The road was quiet at the time and obviously the weather and road conditions are a factor that will feature in our inquiries, although I would not wish to speculate at this stage of the investigation."