Scottish volunteers hold 'day of action'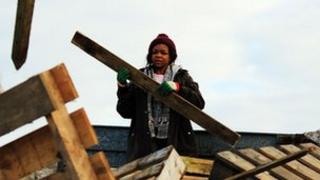 Thousands of volunteers in communities across Scotland are to take part in a day of mass action.
The organisation Community Service Volunteers (CSV) is holding activities for its Make A Difference Day.
Last year, more than 70,000 people across the UK took part in the action.
This year's events includes the world's biggest glow in the dark midnight walk and magic show in Edinburgh, workshops at the Hidden Gardens in Glasgow and planting hedges in Dumfries.
The event aims to improve people's environment, share career skills and support small charities, clubs and groups.
Lucy de Groot, chief executive of CSV, said: "CSV Make a Difference Day is the perfect time for those inspired to volunteer by 2012 Olympics with opportunities to do so, whether it's designing a website for a local sports club, clearing out a nearby pond through to baking a cake or mowing a lawn for a disabled neighbour.
"In these tough times it is more important than ever for communities to come together and support one another through positive community action."
As part of the day of action, there will be an attempt to break the Guinness World Record for the largest magical lesson, which will take place at Fettes College in Edinburgh, to raise money for the Royal Blind organisation.
Public gardens
In Dumfries, the council ranger service is joining forces with a group called Moffat Lets Live Local to provide training in hedge laying in Meikleholm.
St Andrews First Aid will provide lessons and casualty simulation workshops for children aged between six and 15 in Glasgow.
On Sunday, Glasgow's Hidden Gardens will offer locals guidance on how to prune native shrubs for the autumn and winter seasons, how to garden to create more wildlife and workshops in how to compost correctly.
And in the Lanarkshire town of Bothwell, residents will be planting daffodils and native bluebells in public gardens.
The event is the 17th Make a Difference Day organised by CSV, and 900,000 people have taken part so far.