Ken Loach film leads Scottish Bafta nominations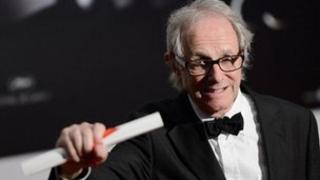 Ken Loach's film The Angels' Share is leading the way in this years Scottish Bafta nominations.
The film, which earned the director the Jury Prize at this year's Cannes festival, is up for four awards at the Baftas in Glasgow next month.
The British Academy Scotland Awards honour the best Scottish talent in film, television and video games.
Kevin Bridges' television show What's The Story? is nominated for best comedy/entertainment programme.
Gregor Fisher and Elaine C Smith go head to head in the best television actor/actress category for their roles as husband and wife in Rab C Nesbitt.
Director of Bafta in Scotland Jude MacLaverty said: "The British Academy Scotland Awards is all about rewarding excellence in the industry.
"This year's nominations reflect the sheer breadth of talent, creativity, and originality here in Scotland."
Radio presenter Edith Bowman will host the event on 18 November.
She said: "The event is a brilliant showcase of the moving image industries and highlights the wealth of talent here in Scotland.
"Over the past year Scotland has cemented its reputation as a leading player in film, TV and game production.
"So much fantastic work has been produced and I'm very excited to see who wins from the list of nominees."
Speaking after his win in Cannes Ken Loach said his film The Angels' Share was about a "handful of those young people who face a life with no real place in society".
He added: "Underneath the humour this is a tragedy we've inflicted on a generation."