EIS lecturers hold one-day strike over 1% pay offer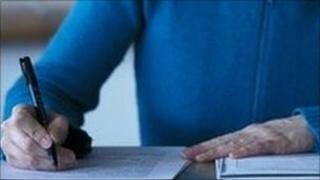 Some university lecturers are taking part in a one-day strike in a dispute over pay.
Members of the Educational Institute of Scotland (EIS) have rejected an offer of a 1% increase.
Union leaders said below-inflation rises over three years meant that, in real terms, lecturers' pay has been cut by 12%, an average of £5,000.
The other main union representing lecturers, the University and College Union, voted against a stoppage.
General secretary of the EIS, Larry Flanagan, said: "Lecturers are drawing a line in the sand and telling their employers that enough is enough - they will not accept yet another year of diminishing pay and declining living standards.
"Lecturers work very hard to make our higher education institutions a success, and to deliver a high-quality educational experience for students. It is only right that they should be fairly and appropriately remunerated for the important work that they do."
Mr Flanagan said Scotland's universities were well funded and estimated their reserves and endowments at about £2.6bn. He insisted the 1% pay offer was "unacceptable".
However, university leaders said it was "highly misleading" to suggest the institutions had reserves on that scale.
A spokeswoman for Universities Scotland added: "Staff pay accounts for over 57% of all university expenditure which is significant proportion considering the world-leading research base and considerable estates universities also support."
The EIS has warned further industrial action could follow if an agreement on pay is not reached. Employers said the offer already put forward is final.