Commuter move 'could save money', Bank of Scotland study finds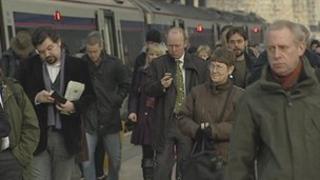 People working in Scotland's two largest cities could save thousands by commuting from elsewhere, a study says.
It found people from Dunblane, Glasgow and Motherwell, who work in Edinburgh, spend about £2,700 a year on rail fares, but house prices are £75,000 less than if they lived in the capital.
Those from areas about 30 minutes from Glasgow pay about £6,000 less for their homes than if they lived in the city.
And the average cost of an annual rail pass from these areas is £1,600.
The Bank of Scotland figures suggest that the opposite was true of Aberdeen, where commuters often pay more for a house than they would to live in the city.
Nitesh Patel, housing economist at the bank, said: "Distance from work is often the deciding factor for purchasing a home.
"It is generally true that the further you commute, the larger are the financial savings made in terms of lower house prices. This is the case with towns surrounding Edinburgh and Glasgow, but not Aberdeen.
"A major consideration for commuting to leading cities, such as these, is that the typically higher income that can be earned tends to go much further in surrounding towns."
With an average house price in Aberdeen close to £172,000, commuters with a rail journey of about 15 minutes from Stonehaven pay, on average, a third (£49,000) more for their homes, combined with the annual rail cost of £1,150.
In Inverurie and Montrose, which are both about 30 minutes from Aberdeen, houses are an average of 15% higher than in the city, and rail passes cost between £1,300 and £2,700 a year.
Average house prices in places 30 minutes away from Edinburgh on the train, such as Dunbar, Falkirk and Livingston, are about 34% (almost £67,500) lower than in the city centre.
This compares with the average £1,500 annual cost of a half-hour rail commute to the capital.
However, the Bank of Scotland said the difference in property prices may be outweighed by travel costs if people commute for a number of years.
Those commuting from towns and cities approximately an hour away from Glasgow, such as Edinburgh, Ayr and Perth, have an average house price (£185,000) that is £58,000 (46%) higher than in Glasgow.
Coupled with the price of an annual rail pass costing close to £3,200, many of these commuters may be financially better off living closer to their place of work, according to the research.