Contest cancelled by conker shortage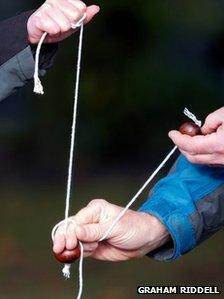 The Scottish Conker Championships has been cancelled, due to a lack of conkers.
Borders Forest Trust, the organisers, said the bad weather meant too few were available to enable the event to go ahead.
The event was due to take place on Saturday in Peebles.
Maurice Hurrell from Tullibody in Clackmannanshire, took the title last year after coming in as runner-up the year before.
Louisa Finch from the Borders Forest Trust said: "The first five Scottish Conker Championships were a real success, so we are saddened that the event won't be happening this year.
"Many horse chestnut trees are bare this year or only have very small conkers which wouldn't have fared well in competition.
"We'd like to apologise for any disappointment caused and hope that the championships will be back next year."