Clean-up after severe rain hits Scotland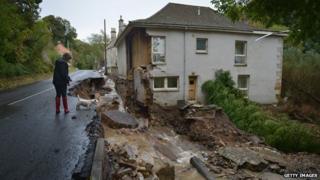 A clean-up operation is under way after severe rains brought flooding to parts of Scotland.
Weather warnings have now been lifted and a large number of flood warnings in the north east, Easter Ross and Tayside have been lifted.
Torrential rain swept in across the country over much of Friday. A number of roads were closed and sandbags were handed out to residents.
The force of the waters saw part of a house crumble away in Dura Den in Fife.
Fife experienced more than half its average monthly rainfall in the space of just 12 hours, with about 30 homes affected by flooding.
In Dura Den firefighters led villagers to safety because of fears erosion would lead to more damage.
The AA was called out to help dozens of motorists who had broken down trying to get through deep water.
In the Highlands flooding on the Inverness to Kyle Of Lochalsh line has now cleared.
In Aberdeenshire, people in Stonehaven protected their homes with sandbags as the River Carron rose to dangerous levels.
The weather for Saturday is expected to be cloudy and damp but with the strong rains easing.