Creative Scotland faces criticism from Scottish Artists Union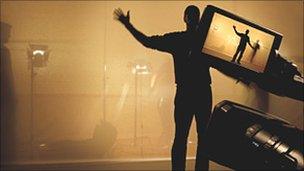 Hundreds of Scottish artists have added their voices to criticism being directed at Creative Scotland.
The Scottish Artists Union, which has almost 1,000 members, is calling for "more transparency" in the agency's work.
An open letter on a similar theme by leading artists, writers and performers was released a few days earlier.
Creative Scotland's chairman has promised a full investigation of their concerns.
The artists union, one of the country's largest membership organisations in the arts, communicated its concerns to Creative Scotland following a decision made at its annual meeting.
It said there is a feeling of "no confidence" in the agency across the sector.
It called for more artists to be involved in decision making, a better infrastructure, and better rates of pay for working artists.
Creative Scotland was established through a merger of the Scottish Arts Council with Scottish Screen and has an annual budget of more that £75m from Scottish government and Lottery funding.
Creative Scotland's chairman, Sir Sandy Crombie, had said in response to the earlier complaints that they will be fully investigated.
He admitted the organisation was new, and could still do better, but insisted it has a broader remit and more funding than its predecessor, the Scottish Arts Council.
Culture Secretary Fiona Hyslop said: "I am taking very seriously the criticism of Creative Scotland.
"That is why I have asked the board to engage directly with the sector, to address the points raised and communicate what action is already being taken.
"The Scottish government cannot and does not interfere in Creative Scotland's artistic decisions - as set out in legislation.
"Sir Sandy Crombie and I have had constructive exchanges about the concerns of the sector and I know he understands what I expect of the organisation."
Related Internet Links
The BBC is not responsible for the content of external sites.