Anti-gang project in Glasgow to be focus of conference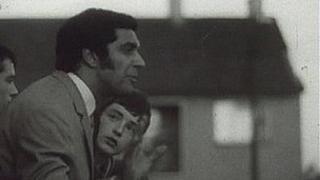 A ground-breaking project in Glasgow to reduce gang violence is to be the focus of an international conference.
The scheme, in the Easterhouse area, has led to violent and anti-social crime in the area reducing by 46%.
Those behind it say it is now time to roll it out to other affected areas.
The project, Community Initiative to Reduce Violence (CIRV), established in 2009, has been given the backing of the new chief constable of the Police Service of Scotland, Stephen House.
For decades the name of Easterhouse, the sprawling housing scheme on the eastern edge of Glasgow, was synonymous with gang violence.
The singer Frankie Vaughan went there in 1968 to persuade gang members to hand in their weapons.
'Reduces territorialism'
But the problem never went away, until now.
CIRV was designed to steer young people away from gang membership, offering them alternatives, such as youth clubs, but crucially also the prospect of training and work.
It is co-ordinated by Family Action in Rogerfield and Easterhouse (Fare), a charity established to offer support and opportunities in the community for families and young people.
Project manager Jimmy Wilson said its success had been helped by the amalgamation of local schools.
"This reduces territorialism, which was one of the driving forces behind gang activity," he said.
"But we have worked with a number of agencies - the police, fire and rescue and Glasgow Housing Association - to drive home the message that anti-social behaviour, including gang activity, is unacceptable."
There was also tough enforcement action from the Violence Reduction Unit (VRU), a national police task force which called gang members in to meetings at Glasgow Sheriff Court.
It estimates violent offending among gang members who signed up to the CIRV programme fell by 46% during the two years VRU ran the project in the east end and north side of the city.
Workers from Fare visit 25 primary schools in the greater Easterhouse area, talking to pupils in P7 - traditionally the age group most likely to be recruited into gangs.
One visit involves the children being taken to the local fire station to sample the work of firefighters.
It has helped reduce the number of attacks, such as stonings, on fire tenders - as well as cutting the number of hoax calls.
CIRV has received £1.4m of Scottish government funding over two years and a further £3.4m funding from its partners.
Academics from St Andrew's University are currently evaluating the project, but workers in Easterhouse say it should be replicated in other areas of Scotland similarly hit by gang violence.
International conference
"It would be a great scheme if it was rolled out to other areas because then there would be a domino effect," said Claire McLachlan, outreach officer for Fare.
"It would show there is more to life than getting involved in gang violence and anti-social behaviour."
CIRV will be the focus of an international conference at the Scottish Police College on Friday.
Chief Constable of the Police Service of Scotland (PSS) Stephen House said violence was a big issue for Scotland.
"Gang violence, alcohol-related violence and domestic violence affect us all, no matter who we are, no matter where we live," he said.
"Reducing and preventing it will be a key part of the work of the new Police Service of Scotland as we move forward, with the help of the VRU and other partners."
Many of those directly involved with CIRV on a day-to-day basis will also speak at the event, including Paul Brannigan, star of Ken Loach's film The Angels' Share, which scooped the prestigious jury prize at Cannes.
Paul, who plays Robbie in the film, was one of 400 young people who benefited from the work of CIRV.
He secured work as a football coach via Sidekix, one of the organisations that worked with CIRV.
He landed the lead role in The Angels' Share after screenwriter Paul Laverty came to visit the VRU as part of research for the film.