Number of centenarians in Scotland 'at record level'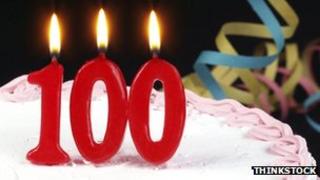 The number of people over the age of 100 in Scotland has increased to a new record, according to the latest official figures.
The number of centenarians has risen from 580 in 2002 to an estimated figure of 830 in 2011, an increase of 43%.
Just over 80% of centenarians are women, the figures from the National Records of Scotland suggest.
The figures are estimates based on population information rolled forward from the 2001 Census.
Audrey Robertson, acting registrar general for Scotland, said: "Around eight out of every 10 centenarians are women."
In 2011, women accounted for 700 of Scotland's centenarians (84%), while 130 men had reached the milestone.
"Although the male population aged 90 to 99 increased substantially from 2009 to 2011, almost three quarters of people in their 90s are women (73%).
Statisticians said that a century ago, living to 100 was very uncommon.
However, this changed at the beginning of the 21st Century, when estimates showed there were more than 500 people aged 100 years old and over in Scotland.
The number of centenarians has been increasing ever since.
Ms Robertson added: "Estimates of the number of people aged 90 to 99 show relatively big increases in 2010 and 2011.
"This is partly due to births in 1920 and 1921 being much higher than in the preceding years. The number of births in 1920 was the highest since the introduction of national registration in 1855."
But there are still fewer than two centenarians for every 10,000 people (1.6 per 10,000), the figures showed.