Rangers football club to float shares on AIM market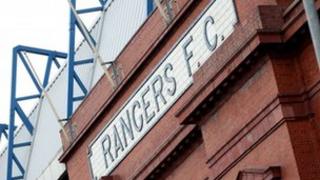 Rangers football club has formally announced that it intends to float its shares on the AIM market in London.
The club said it intended to raise up to £20m through an institutional investor placing and limited public offering.
Rangers said the funds raised would be used to strengthen the player squad, improve facilities and provide additional working capital.
Fans wanting to invest have been invited to register their interest.
A document released on behalf of the club states: "Playing at the 51,000 seater Ibrox stadium, which is Scotland's only UEFA elite club stadium, and benefiting from the world class 38-acre Murray Park training facility, the club has been a major force in Scottish football for decades."
Registration of interest for the shares was opening at 17:00 BST.
Charles Green, chief executive of Rangers, said: "From the time we acquired the business and assets of Rangers FC, we indicated our intention to list the company and provide our fans with the opportunity to invest in their club. I am delighted that our plans are coming to fruition.
"Rangers is debt-free and a huge club with enormous support and a 140-year track record of success on the domestic and international arenas.
"Our aim is to return the club to its glory days whilst ensuring it is run efficiently and profitably."