Appeal judges reject cigarette machine ban challenge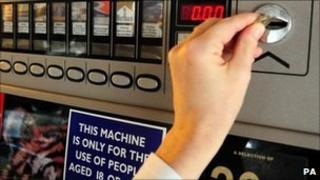 Appeal judges have rejected a bid by Britain's biggest cigarette vending machine operator to halt a law banning their use in Scotland.
MSPs passed legislation outlawing vending machines in 2010 as part of the drive to cut smoking.
The ban was due to come into force in October last year, but vending machine operator Sinclair Collis challenged the ban in the Court of Session last May.
The company lost, and now appeal court judges have backed that ruling.
Lord Carloway, sitting with Lords Bonomy and Osborne, agreed with Lord Doherty's decision that the ban had not breached European law.
The Court of Session in Edinburgh heard that more than 36 million cigarettes were bought every year from Scotland's 6,500 cigarette machines.
Sinclair Collis, which is owned by Imperial Tobacco, operates 1,708 such machines at 1,454 sites throughout the country.
A policy memorandum produced in 2009, when the proposed new rules were first put before the Scottish Parliament, said the aim was to stop youngsters getting hooked.
"Everything possible" should be done to prevent young people accessing cigarettes, it said.
The Scottish government argued that vending machines could not involve age checks - unlike sales of alcohol or fireworks.
"The only way to be absolutely certain that underage young people do not access cigarettes from vending machines is to ban the sale of cigarettes from vending machines completely," it said.
Spare parts
Sinclair Collis claimed the legislation breached European Union rules guaranteeing free trade.
Most of the machines and their spare parts come from Spain and the firm said it would have no reason to import them with the ban in place.
The judges also heard arguments that restrictions short of a "disproportionate" complete ban could be considered.
However, Lord Carloway concluded: "The prohibition cannot be said to have failed to strike a balance between the public interest in maintaining good public health and the petitioners' (Sinclair Collis) private economic interest in its use of vending machines."
Imperial Tobacco is also challenging the Scottish government's decision to ban cigarette displays in shops.
The civil action will be argued in November, before Supreme Court judges in London.