Congo Fever: Funeral for victim Fazal Ahmad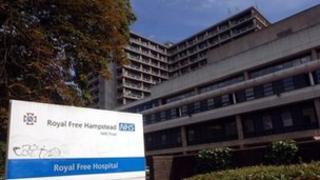 The funeral of a man who died in the UK's first case of Crimean-Congo haemorrhagic fever (CCHF) has taken place.
Fazal Ahmad, 38, died in hospital in London on Saturday - two days after laboratory tests confirmed he had the disease.
He had returned to Glasgow from Afghanistan last Tuesday, via a connecting flight from Dubai.
His funeral was held at Glasgow Central Mosque.
Mr Ahmad, an Afghan national who lived in Glasgow, was initially treated in isolation at the specialist Brownlee Centre in the city's Gartnavel General Hospital.
He was later flown to a high-security infectious disease unit at London's Royal Free Hospital.
His friend Mohammed Asif, acting chairman of the Scottish Afghan Society, said the community has been saddened by Mr Ahmad's death.
He said: "Everybody is quite shocked. He was a nice guy, helpful to everybody and very pleasant.
"He was young and was a family man who worked hard for his family. It's sad he died so young."
Mr Ahmad was said to have come to the UK seeking asylum several years ago and lived with his wife and young son. He owned a garage in the east end of the city.
He had been in Afghanistan to attend his brother's wedding in Samangan province, Mr Asif added.
Concerns have now been raised about three of Mr Ahman's family members in the village of Aibak, Afghanistan, who are said to be displaying symptoms of the fever.
Mr Asif said: "We have tried to give them advice, telling them that anyone showing symptoms should stay away from the rest of the family.
"We have also contacted a local politician and sent over British news reports to be translated, to let them know how dangerous it can be."
Mr Ahmad was picked up from Glasgow airport on Tuesday by a friend and within three hours had been admitted to hospital.
'Direct contact'
NHS Greater Glasgow and Clyde said it has identified and contacted four passengers who may have had contact with him on the Emirates flight from Dubai to Glasgow.
The health board said two of them - one who remained in "close proximity" to the ill man during the flight - will be monitored on a daily basis for the next two weeks for any developments of relative symptoms.
The other two passengers do not require follow-up surveillance and the risk to all other passengers on the flight and the general public is "extremely low", it added.
The Health Protection Agency said it was the first laboratory-confirmed case of CCHF in the UK.
It is described as a widespread tick-borne viral disease which is especially common in East and West Africa and is fatal in up to 30% of human cases.
The onset is said to be sudden, with initial symptoms including headache, high fever, vomiting and back, joint and stomach pain.
The Royal Free London NHS Foundation Trust said: "Crimean-Congo haemorrhagic fever can be acquired from an infected patient only through direct contact with their blood or body fluids, therefore there is no risk to the general public."