Eric Lomax: The Railway Man author dies aged 93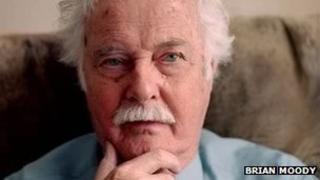 A former prisoner of war whose memoirs about working on the "death railway" in Thailand have been turned into a film has died at the age of 93.
Eric Lomax, originally from Edinburgh, was captured by the Japanese during the fall of Singapore in 1942.
He became one of the thousands of servicemen used as slave labour to build the railway.
The Railway Man film, starring Colin Firth and Nicole Kidman, is due to be released next year.
It is based on Mr Lomax's book of the same name, published in 1995, which describes his experience before, during, and after World War II
Rachel Cugnoni, of his publisher Vintage Books, said Mr Lomax had died in the early hours of Monday in Berwick-upon-Tweed.
She said: "The Railway Man was one of the landmark books of the 1990s.
"It tells Eric's incredible and moving story with grace, modesty and exceptional humility. All characteristics Eric had as a man.
"It is a book that stands as a testament to the great capacity of the human spirit for forgiveness and we are honoured to have published it."
Mr Lomax was a signals officer who was captured with many other Allies in Singapore and held at the island's Changi jail before eventually being taken to the Thai town of Kanchanaburi, where he worked on the railway link to Burma.
The horrific conditions of the prisoners as they built the line, with a terrible loss of life, famously formed the basis of David Lean's 1957 film The Bridge On The River Kwai.
Mr Lomax endured savage beatings when guards found a radio he had helped to build within his prison camp.
He went on to become a lecturer at Strathclyde University, but was haunted by his treatment and met the interpreter who had interrogated him while he was tortured, Takashi Nagase, after he wrote about his remorse in a book.
Mr Lomax's wife Patti contacted Mr Nagase and both men returned to Kanchanaburi to meet in 1993 and eventually became friends.
'Great pleasure'
Andy Paterson, the producer of the new film, said: "The cast and crew of The Railway Man are deeply saddened to hear of Eric Lomax's death. All our thoughts today are with his family.
"We remember with great pleasure Eric and Patti's visit to the set in Berwick-upon-Tweed, just a few months ago.
"In true Eric style he was intensely interested in the arcane machinery of film-making and keen to know the gauge of the track along which our camera crane ran.
"Eric spoke for thousands of men who felt their service and sacrifice had gone unnoticed.
"Whilst we are heartbroken that he will not be with us at the premiere, he lived long enough to see some early images from the film and to share our hopes that this new version of his story will help ensure that the men who suffered with him - and the families who had to cope with the legacy - would never be forgotten."
Mr Lomax is survived by Patti, his daughter from his first marriage Charmaine and step-children Graeme, Nicholas, Mark and Jennifer.