Brave singer Julie Fowlis: 'I was terrified of singing'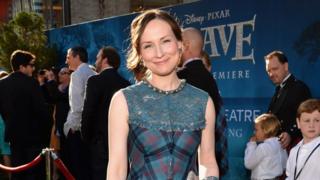 Gaelic folk singer Julie Fowlis says she used to be "terrified" of singing solo in public.
The 33-year-old, who has reached global success by performing on the soundtrack of Hollywood blockbuster Brave, says that at university in Glasgow she concentrated on playing instruments in a band rather than singing alone.
She told BBC Scotland's Stark Talk: "We had a singing class, which was compulsory, and I remember being in tears sometimes because I was so terrified to sing."
It is a fear she has conquered, and over the past decade she won a string of awards including BBC Radio 2 Folk Singer of the Year in 2008.
The previous year Fowlis, who grew up in North Uist in the Outer Hebrides, became the first Scottish Gaelic artist to appear on Later... with Jools Holland.
She also managed to crossover to a non-Gaelic audience even before the international acclaim she received when her songs appeared in the Pixar animation Brave, which features characters voiced by Billy Connolly, Kelly Macdonald and Emma Thompson.
Gaelic melodies
Despite making her name for singing in the Gaelic language, Fowlis recorded two songs for the film - Touch of Sky and Into the Open Air - in English.
She says: "There was a discussion about whether the songs should be in Gaelic or English but I understand completely their reasons for the two main songs in the film being in English.
"That's the audience they are aiming for and it is important in the storytelling aspect of the film that the words are in English."
A trailer for the film, which was broadcast to millions during the Oscar ceremony in March, featured Fowlis singing a song in Gaelic called Tha Mo Ghaol Air Àird a' Chuan.
And while many of her audience will not understand the words, the singer says there is something about the way the "beautiful and powerful" Gaelic melodies carry the stories which audiences understand.
Fowlis lived in the Gaelic-speaking community of North Uist until she was 13 but was not fluent in the language when she left for the mainland.
Her father was from Pitlochry and did not speak Gaelic and her schooling was not in the Gaelic medium.
"We would hear both English and Gaelic in the house growing up. That was both a brilliant thing and it made me work a lot harder as a teenager to go back to Gaelic.
"I really wanted to be able to speak it fluently. It was like having it all in my head but the inability to converse properly with confidence.
"After I finished my degree I went back to college and spent a year immersing myself in the language again and trying to get the confidence to speak."
She had been determined to study Gaelic and to pursue music when she was at Dingwall Academy in Easter Ross but a teacher advised her to do "something useful" such as French instead.
"That was in the early 90s," she says.
"The thought was that Gaelic was on the way out in lots of ways."
Fowlis joined the traditional music group Dochas in 2000 but it was not until a couple of years later that she gave up her job and became a full-time musician.
She says her mother's sudden illness led her to the decision.
Her mother had food poisoning which developed into Guillain-Barre syndrome, a serious disorder of the body's immune system.
"Within 24 hours she had lost all the movement from her neck down and had to relearn everything," Fowlis says.
"She was in hospital for a year. It changed my outlook on life and I realised you are only here once and you've got to make the most of it."
Of her mother, Fowlis says: "She is a really inspiring character. Where others would have just turned over and let life slip away, she fought so hard.
"They told her she would probably never walk again and she managed to walk down the aisle with me when I got married.
"She is an amazing woman and has fought back over the past 10 years to being a feisty, independent woman."
Traditional music
Fowlis, who gave birth to her second daughter earlier this year, says she has had very little time to think about how she will follow up her recent success.
However, she does not see playing large arenas as part of her plan.
"I don't think so," she says.
"But it would be nice if some of the audience for Brave are switched on to traditional music in general.
"Wouldn't that be a wonderful thing?"
Stark Talk with Julie Fowlis is on BBC Radio Scotland on Tuesday 8 October at 14:05.