Scottish blood transfusion service appeals over supplies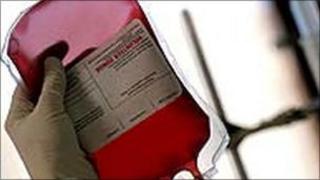 Stocks at blood banks in Scotland have fallen to less than three days' supply of a universal blood group.
The Scottish National Blood Transfusion Service (SNBTS) said its stock of O Negative type is below half of the ideal level.
O Negative can be given to anyone in an emergency, and is the only safe option when a patient's blood group is not immediately available to medical staff.
It can also be given during specialised procedures for unborn babies.
The service has issued an appeal to all donors to consider coming forward to allow it to increase supplies before the October holiday week.
Dr Moira Carter, of SNBTS, said: "Although we are currently able to meet hospital demand we need to give our stock levels a significant boost before we enter the holiday period.
"This year we are particularly concerned as we expect that more families will head off for some much-needed sunshine given the poor summer.
"When that happens we find that donor numbers fall by up to 20%.
"Specifically we are asking for all group O, A and B donors to make sure that they give blood in the coming days and weeks."