Scottish Opera orchestra to hire out musicians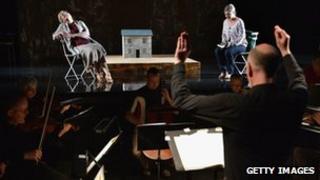 The Orchestra of Scottish Opera has formed a cooperative so members can be hired out for concerts and events.
The 53-strong orchestra was made part-time two years ago, leading to fears that many of the musicians would be forced to seek work elsewhere.
It is hoped the commercial operation will provide more work for orchestra members and allow them to continue working as full-time musicians.
The move has been welcomed by Scottish Opera.
Individual members or the whole orchestra will now be available for hire for concerts, events and even weddings when they are not performing with the main company.
It has been made possible by a £10,000 start-up grant, and is based on similar schemes in Birmingham and London.
Alex Reedijk, general director of Scottish Opera, said: "We welcome their initiative in putting together this fledging cooperative.
"We wish it every success and will support them whenever we can."