Scotland's cycling routes to get £6m revamp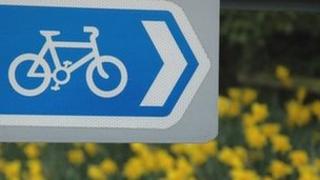 Scotland's cycle path network is to get a £6m revamp, which will include improvements to the Land's End to John O'Groats route.
The famous route will be upgraded from Barnton Junction to the Forth Road Bridge.
The money will also be used to create more cycle paths in Glasgow ahead of the Commonwealth Games in 2014.
Routes in Dundee, Kirkcaldy and Edinburgh will also be improved, as will the cycle path along the A90.
Transport Minister Keith Brown confirmed details of the funding, which was announced two weeks ago in Finance Secretary John Swinney's Budget.
He said the cash would also allow thousands of schoolchildren in Scotland to learn more about bike safety.
'Bike library schemes'
"I've been working closely with the cycling community in recent months to find out exactly what's needed to get more people in Scotland on their bikes," he said.
"We want to ensure all P6-7 pupils have access to on-road cycle training.
"Schemes such as Bikeability Scotland and Give Me Cycle Space, which teach kids how to stay safe on their bikes, are doing a great job of encouraging them to cycle from an early age and that's why I am ensuring that we continue to fund their work.
"This additional funding will allow more local authorities to move to on-road training through staff training, recruitment of volunteers and bike library schemes, particularly in more deprived areas."
Ian Aitken, Cycling Scotland chief executive, said: "I'm delighted that this new funding will help us continue our work in equipping Scottish schoolchildren with the skills and confidence to cycle.
"We are working with local authorities across Scotland to increase the amount of training which is delivered on-road, as opposed to in the playground, as training is far more beneficial when delivered in a live road environment.
"This funding will enable us to support the network of over 4,000 amazing volunteers that are currently delivering cycle training, increase the number of children receiving training on-road, and to continue to campaign for greater consideration for cyclists using the road network."