Report finds indiscipline problem in Scottish schools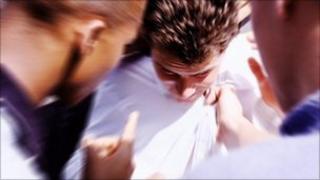 An official report on indiscipline in schools has found that 35% of secondary heads and teachers had experienced violence or abuse in the past year.
The Behaviour in Scottish Schools report found the most common problem was of threatening remarks.
Incidents of "physical aggression" were the next most frequently reported.
Responding to the findings, the Scottish government said teachers described the majority of pupils as "well behaved".
The serious disruptive behaviour thought to have the greatest impact in the classroom was "general verbal abuse towards other pupils".
The report stated: "The general picture of serious disruptive behaviours or violence around the school was one of improvement between 2006 and 2012."
It found the exception to the improving trend reported by teachers and support staff was in three categories:
Sexist abuse towards you/your staff
General verbal abuse towards you/your staff
Physical aggression towards you
In addition, 3% of secondary heads had experienced physical violence in the past 12 months, up from 1% in the 2009 study.
EIS general secretary Larry Flanagan said: "This report highlights the continuing problem of persistent, low-level indiscipline in our schools.
"This unacceptable behaviour by a small number of pupils continues to blight the working lives of teachers, and damage the educational experience for the vast majority of pupils who are well behaved and eager to learn."
Responding to the report, minister for learning Dr Alasdair Allan said: "This research shows that teachers find the overwhelming majority of Scottish pupils are well behaved.
"When these findings are considered alongside the 40% drop in the number of exclusions since 2006, we see that behaviour is continuously improving in our schools.
"We will continue to work together and tackle poor behaviour where it exists."
'Working hard'
Dr Allan added: "Having access to such robust evidence allows us to identify exactly where we need to target our future efforts."
The chief executive of the General Teaching Council for Scotland, Anthony Finn, said: "This report makes clear that the majority of Scottish pupils are well behaved, and this is itself a commendation of the very high teaching standards which we have in Scotland.
"Any violence or other form of aggressive or abusive behaviour directed towards teachers, or any other group of workers in their workplace, is, of course, quite unacceptable.
"However, we know that the Scottish government, the trades unions, local authorities and other public agencies take this issue very seriously indeed and are working hard to address it."