Duncan Bannatyne: Dragons' Den star 'suffers heart scare'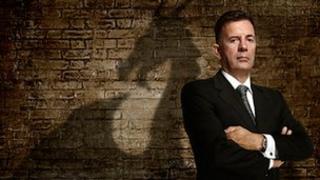 Dragons' Den star Duncan Bannatyne has been taken to hospital after having a heart scare.
The Scottish entrepreneur underwent tests at Darlington Memorial Hospital after paramedics were called to his office in the town on Monday morning.
He was well enough to tweet to his 540,000 followers that he hoped to be discharged from hospital on Tuesday.
Mr Bannatyne runs The Bannatyne Group, a successful health club, hotel and spa business.
In the tweet sent from his hospital bed on Monday evening, Mr Bannatyne wrote: "Hi. In hospital attached to a few wires feeling tired but am sure I will be discharged tomorrow fit & well (fit as a pensioner can be anyway)".
He followed it with: "Today was my first trip inside an Ambulance & with siren wailing. Hope it is the last. LoL".
His agent had earlier confirmed to the BBC that Mr Bannatyne had a suspected heart attack.
A spokesman for The Bannatyne Group said: "Everyone at the company is very concerned and upset, but we know that Duncan is a very strong person and we are confident he will make a full recovery.
"Everyone wishes him well. We'd like to thank the quick and professional actions of the paramedics who attended to Duncan and thank the staff at the Memorial Hospital for his on-going care."
Mr Bannatyne, who is originally from Clydebank, has appeared on BBC show Dragons' Den since the first series in 2005.
Ice cream
The programme sees entrepreneurs pitch for investment in the Den from the Dragons - five venture capitalists willing to invest their own money in exchange for equity.
Mr Bannatyne had tweeted on Monday morning: "It is Monday so start the week on a positive note & stay positive".
Fellow Dragon Theo Paphitis said he had spoken to his friend in hospital and Mr Bannatyne told him he did not think he had suffered a heart attack.
Mr Paphitis tweeted: "In Scotland no mobile signal but managed to make contact with @DuncanBannatyne and he is well undergoing tests does not think heart attack!"
He added: "Speedy recovery we are missing you already".
Mr Bannatyne enlisted in the Royal Navy at the age of 15, before receiving a dishonourable discharge for threatening to throw an officer off a jetty.
After drifting from job to job, he began his entrepreneurial life by trading in cars, before buying an ice cream van for £450.
He later sold Duncan's Super Ices for £28,000, and used the proceeds to found a nursing home business which was eventually sold for £26m in 1996, and another business, children's nursery chain Just Learning, for £22m.
The millionaire now runs the largest independent chain of health clubs in the UK, and also owns bars, hotels and property.
He has received an OBE for his charity contributions and is known as a supporter of good causes, especially for children.
Mr Bannatyne is also heavily involved with Comic Relief and UNICEF, and is a passionate anti-smoking campaigner.