Police superintendents body seeks meeting with Stephen House over cuts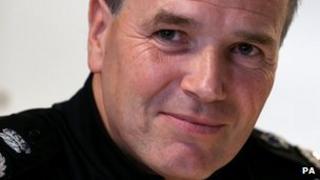 The Association of Scottish Police Superintendents (ASPS) has called for an urgent meeting with the newly appointed chief constable of the Police Service of Scotland.
Stephen House has said as many as 3,000 support staff could be lost as he seeks to merge eight forces into one.
It has also been reported that cuts of about £300m may be needed over the next three and a half years.
Ch Supt David O'Connor from ASPS said civilian staff do a "valuable job".
Speaking on BBC Scotland's Sunday Politics programme he said he would like an early meeting with Mr House and the convener of the new Scottish Police Authority to discuss the new policing model for Scotland.
He said: "We want the right person, with the right skills, doing the right jobs, at the right time.
"There is great deal of rhetoric about frontline policing but what we need to do as we move forward is to agree and develop the model for policing across Scotland, and that comprises of police officers and police staff, who do perform a very valuable job."
Centralising control
The Sunday Herald newspaper has reported that a leaked document containing figures from the Police Reform Board shows that the force faces £300m worth of cuts over the next three-and-a-half years, while 550 civilian staff would be lost immediately.
Scottish Liberal Democrat leader Willie Rennie has called for the justice secretary to appear before the Scottish Parliament and explain the full extent of the police cuts.
He said: "These cuts are even worse than we feared and was set out in the outline business case. The costly upheaval of centralising our local police forces will have a big impact on the effectiveness of the police.
"For years we have worked to create police forces with the right level of support staff to help our front line officers do their jobs.
"The SNP is reversing that good work to pay for their obsession with centralising control."
A Scottish government spokesman said: "We have protected, and will continue to protect, frontline police numbers and the 1,000 extra officers we have delivered, which have helped reduce crime to a 37-year low, while the fear of crime has also fallen.
"We have also given a commitment to no compulsory redundancies among police support staff.
He added: "It will be for the new chief constable and the Scottish Police Authority to determine the balance between police officers and police staff in the new service."
The single police force is expected to go into operation in April next year.