Spain death of Edinburgh's Chris Lindsay probed by police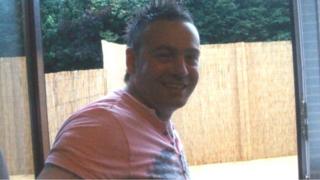 A Spanish judge has ordered police in the resort of Fuengirola to investigate the death of a Scottish tourist.
Chris Lindsay, from Edinburgh, died in hospital on the Costa del Sol in October 2011, five days after a night out with workmates.
The 34-year-old father-of-three was found collapsed in the street by police. He was heavily bruised and his money and passport were missing.
The Lindsay family are convinced Chris was the victim of a violent attack.
Raised concerns
They have been urging Spanish authorities to launch a formal inquiry for much of the last year. Their campaign is the subject of a BBC Scotland documentary - "Who Killed My Son?".
Chris's partner, Vikki Solomon, spoke of her frustration: "If you knew what had happened then you'd maybe be able to process that.
"But we don't know and what we are being told and what we are seeing are different things."
Scottish Justice Secretary Kenny MacAskill raised the family's concerns with Spain's consul general in Edinburgh in April.
He also referred the family to Victim Support Scotland which took up the case.
The breakthrough came when the charity travelled with Chris's father, Harry, to meet police in Spain.
During a half hour discussion with officers of the Policia Nacional in Fuengirola, they were told a judge had instructed the force to investigate.
Emerging from the meeting, Mr Lindsay told the BBC: "It means a lot. It's a lot off your shoulders as well.
"We can just wait now and let people get on with the job. And hopefully, the police will come up with some answers for us."
Separated
Spanish officers are expected to visit Scotland to interview Chris's former colleagues from the Marketing Company in Glasgow and Edinburgh who were on holiday with him.
Chris stayed out drinking late one night with a senior colleague, Brian Quinn.
They became separated and Mr Quinn said he searched in vain for Chris before returning to their rented villa.
An ambulance was called a few hours later when Chris was found by police.
A nurse who treated him on admission to hospital is convinced he had been attacked.
Jose Cabrera said: "He had signs of violence. He had bruises in the abdomen and it looked like it was hit.
"It was impossible that he could make himself those injuries."
Mr Cabrera also said Chris told him he had the sensation of being followed when he left the pub.
Chris had consumed a lot of alcohol over several days and tested positive for cannabis and cocaine.
A post-mortem examination found that he died from multiple organ failure but could not establish why.
A former Scottish police chief, Tom Wood, who reviewed the evidence for the BBC said it would "certainly" have prompted an investigation in this country.
Victim Support Scotland said the case highlighted a wider access to justice problem in some European countries.
The charity's chief executive, David McKenna, said: "We do experience a lot of reports from people who could not get the police to believe them, take them seriously or investigate the crime. It's terrible."
The police in Spain declined to comment. A spokeswoman at the Spanish embassy in London said that all crimes, including those against British citizens, are investigated.
The European Parliament has approved a new EU directive to strengthen victim's rights but it will not take effect until 2015.
By then, Harry Lindsay hopes to have established exactly what or who killed his son.
The BBC Scotland investigates documentary "Who Killed My Son?" is to be broadcast at 1930 BST on Monday 8 October 2012.