Rehab for drug addict mums - and kids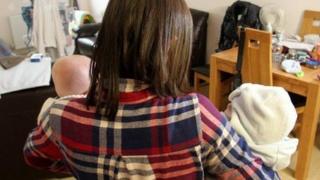 The number of pregnant women recorded as using drugs in Scotland doubled over the five years from 2005, according to the latest statistics. Fiona Walker was given exclusive access to a new rehab for mothers trying to beat their addiction.
It is a rehab with a difference - because the kids go too.
The Family Support Service, run by Aberlour Childcare Trust, is all about keeping families together. But can women who are addicted to drugs become good mums?
The names of the mothers I met have been changed to protect their identity and their children.
Each of the 12 women at the family support service has their own flat. Some have their children living there with them as they try to detox or stabilise on methadone.
Others are trying to prove to social work that they should have their children returned to their care. Some are pregnant. Jane is both.
She is the first to admit that when you are using heroin, you cannot be a good mum.
Jane says that when she was in a "drugs stupor" she did not realise she was neglecting her children.
She says: "Rather than buy food we would spend it on drugs and then go begging to get more money because if we didn't we'd be ill.
"We were actually starting to raid bins for food, it was getting really bad."
When I first met Jane she was pregnant and was stable on methadone.
She wanted to get off methadone entirely and was working towards that goal.
Ultimately she was hoping to be able to keep her baby when it was born.
There was a chance it would have to go through withdrawal symptoms because of its mother's methadone use.
Jane was also going to parenting classes and learning to come to terms with her past. She was an active member of the group at Aberlour and appeared determined to succeed.
Another woman, Jennifer, had had a successful career and had started using recreational drugs.
She went on to use heroin and her life spiralled out of control.
Jennifer got pregnant and eventually became stable on methadone.
But four days after her baby was born she was called to a meeting.
She was told time was against her and her baby would be taken into care.
At the meeting, she realised she had to ask for one last chance.
She says: "I remember looking round the table of people who were there and thinking this is really happening. I'm going to leave hospital and go home and the baby is going to have to go into foster care.
"I thought that can't happen and I could feel my heart was pounding and it just blurted out of mouth. I remember saying 'what about Aberlour?'."
Drug-free
Jennifer was given the opportunity to live at Aberlour with her baby.
There she could detox and be assessed as a parent at the same time. She remembers the feeling when she was finally free of methadone.
She says: "Just as I came off methadone I remember sitting with flip-flops on my feet and I could feel the wind on my feet.
"I had a glass of juice and I could hear the bubbles rising in it. It was obviously my brain wakening up again."
Jennifer is now living in her own flat, drug-free, with her son. She is trying to get back on track with her career.
When I returned to Aberlour, Jane had disappeared.
It seems she had succumbed to the draw of heroin and was now out in the community, vulnerable and pregnant.
Using heroin again would put her baby at even greater risk and there would be very little chance that she would be able to keep her baby when it was born.
Jane had been doing so well but, it appears, she had surrendered to her addiction.
The complexities of addiction are part of life at the support service. It invests in women with the aim of benefiting their children. If the women fail here, where does that leave their children?
Ruth Macdonald, the service's deputy manager, says these women are worth investing in as mums because it can break the cycle of poor parenting and benefit future generations of mothers.
She says: "Some of the women coming into the service have had a really negative experience of being parented. They have, maybe, suffered neglect or physical, sexual, emotional abuse.
"They have not then got the skills to parent their own child so we've got a massive task on our hands to break these cycles.
"Sometimes it is going back two generations of unemployment, poverty, abuse and neglect."
It is still early days for the Aberlour Family Support Service. But already Dr Mary Hepburn, a consultant obstetrician in Glasgow, says we need more services like it around Scotland.
She says: "They'll be able to assess very quickly whether the woman is likely to become an adequate parent and if she is not, then we can identify that before the baby comes to any harm.
"So we get a very good idea of what the long-term success is likely to be but the baby is protected while we are getting that information.
"So we get better outcomes while we are protecting the baby."
BBC Scotland's The Investigation: Mother and baby unit is on BBC Radio Scotland on Sunday 30 September at 16:30