Supreme Court date for Imperial Tobacco challenge to cigarette display ban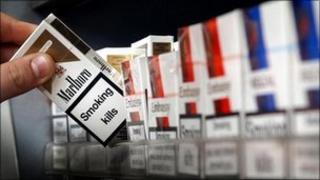 The Scottish government's decision to ban the open display of cigarettes in shops is facing a fresh legal challenge.
Imperial Tobacco's civil action, which also opposes a ban on tobacco vending machines, will be argued before Supreme Court judges in November.
The Scottish Parliament backed the measures in January 2010 and it was granted Royal Assent two months later.
However, its implementation has been delayed by the tobacco giant's action.
Bristol-based Imperial sought a judicial review in the Scottish courts to try to overturn the plans, claiming they fell outside the legislative scope of Holyrood.
A judge rejected the its arguments in September 2010.
The firm, which owns the Lambert & Butler and Richmond brands, then appealed against that decision, but its case was unanimously rejected by three judges in Edinburgh in February this year.
Imperial believes there is no credible evidence that display bans have cut tobacco consumption.
However, Scottish ministers have argued that the move is needed to protect future generations from the "devastating effects" of smoking.
After its appeal was rejected, the company launched further appeal proceedings at the London-based court.
The case will now come before five judges on Monday 12 November, with the legal debate is scheduled for four days.
It will be heard by Scottish judge Lord Hope, sitting with Lord Walker, Lady Hale, Lord Kerr and Lord Sumption.
'Cost burden'
A spokesman for Imperial Tobacco said: "We cannot comment on an ongoing legal process but our position on the issue of display bans remains clear.
"There is no credible evidence that display bans have reduced tobacco consumption or youth smoking in the few countries where they've been introduced.
"They go against the principle of adult choice, they are anti-competitive and they place an unnecessary cost burden on retailers - £16m was spent by large retailers in England refitting stores, according to the British Retail Consortium.
"Furthermore, display bans will not result in substantial volume declines but they lead to longer in-store transaction times and shopper frustration whilst anti-illicit trade activities are undermined as display bans blur the definition between legal product and counterfeit tobacco illegally traded in pubs, car boot sales, street corners, etc."
A Scottish government spokesman said: "In the face of tobacco industry challenges to the act, we will continue to defend the legislation."
Legal challenges have meant ministers have not yet been able to set a date for the bans to be brought in. They had planned to introduce the display ban in April this year in large shops but that is now on hold.
Scotland was the first part of the UK to adopt a ban on smoking in public places.