Scottish doctors in fresh strike threat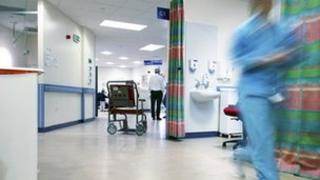 Scottish doctors could strike again if a row over pensions is not resolved, the British Medical Association (BMA) has warned.
The union said the Scottish government had failed to use its powers to come up with an alternative offer to that being imposed in England and Wales.
If doctors vote for strike action they will provide emergency-only cover on 12 December.
The government said it was willing to work with unions on the issue.
Dr Lewis Morrison, chairman of the BMA's Scottish consultants committee, said there could also be further days of action over sustained period in addition to strike action.
This was stronger than the industrial action taken by medics in June, he said.
He added: "It is disappointing that we are considering further, stronger industrial action on the issue of pensions but we believe that this is the only way we can get the Scottish government to listen to us."
Dr Morrison said talks had been taking place between the Scottish government and health unions for about six months.
But he accused the government of "failing to deliver".
Dr Morrison said: "They agree that the increase in NHS staff contributions to their pensions is unjust and describe it as a 'short term cash-grab' yet they offer no alternative.
"They say they are negotiating with us in good faith yet they have been unable to provide clarity on the scope of these negotiations or come up with any genuine alternative to the English proposals.
"This is a government that is talking up its opposition but failing to deliver on these words."
The BMA plans to ballot hospital doctors in November and, if the vote gives the go-ahead for action, the strike would take place on 12 December, with the possibility of further action on both 8 and 17 January next year.
The dispute centres around what the BMA has described as "totally unjustified" increases to pension contributions and a later retirement age for doctors.
Dr Morrison added: "We recognise that our disagreement is with the Scottish government, not our patients, and for that reason we are giving NHS employers very advance notice of our possible days of action.
"The action we propose would mean that doctors would not attend their place of work unless they are covering emergencies.
"Doctors would be seeing patients with emergencies as normal and, as GPs are not taking part in the ballot, general practice would be working as usual on the day.
"By giving the NHS plenty of notice of our action, health boards would have plenty of time to organise their rotas and surgical lists accordingly."
'Tighter constraints'
A Scottish government spokesman said: "It is disappointing that the BMA in Scotland is balloting for further and more serious industrial action when they are actively involved in ongoing discussions on this issue.
"The Scottish government has demonstrated willingness to work in partnership with NHS trade unions to find a way forward on pensions issues within the ever tighter constraints imposed on us by Westminster."
Scottish Conservative health spokesman Jackson Carlaw said the timing of the potential industrial action "could not be worse".
He said: "Have they learned nothing from the previous industrial action, which achieved absolutely nothing?
"All they have done is prejudice patients against them, and once that trust in doctors is lost, it is very hard to get back.
"The timing could not be worse, at a time when seasonal flu and norovirus - alongside other challenges - mean hospitals are far busier than normal."
It comes after doctors took their first industrial action for some 37 years in June, which resulted in some non-urgent work being postponed.
Non-emergency hospital clinics, outpatient appointments and planned surgeries were cancelled.
Doctors still saw anyone who was ill, but did not do paperwork. Accident and emergency departments and maternity services ran as normal and tests for critical conditions such as cancer were still available.