Scots soldiers receive honours for bravery and service in Afghanistan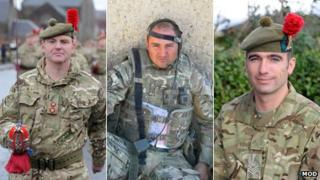 Scots soldiers have been honoured for bravery, gallantry and distinguished service over the past year.
Former commanding officer of the Black Watch Col Edward Fenton has been given a Distinguished Service Order for successful operations in Helmand.
Sgt Daniel Buist has gained a Mention in Despatches for leading his men to secure a vital position in Afghanistan.
Black Watch Colour Sgt Ian Smith also gains a Mention in Despatches for foiling an ambush.
Col Fenton receives the Distinguished Service Order in recognition of his "gallant leadership".
The 43-year-old commanded the largest combined force in Helmand province during a six-month operation from October last year, with 1,500 troops including his own battalion.
His plan in the Nad-e Ali district was said to have put the transition for security responsibility to the Afghan forces six months ahead of schedule.
The citation said his "courageous leadership" inspired and reassured his soldiers.
Col Fenton, who recently handed over command of the Black Watch at their base at Fort George, Inverness, paid tribute to a "tremendous team effort".
The father-of-one has now taken up a staff officer post in Warminster.
Alleyway battle
Sgt Buist, 37, was awarded the Mention in Despatches for his "truly exceptional" courage.
He was patrolling with 3 SCOTS in November when they were attacked by machine gun fire and grenades.
Hemmed in 400m from their base by a barrier of improvised explosive devices (IEDs), the platoon was pinned down.
He stood up to draw fire, with shots narrowly missing him, and identified enemy firing points while allowing the men to find better cover.
But the fight continued and, after a third day of attacks, Sgt Buist realised the company needed to breach enemy lines, which involved creeping along a 300m compound through ground filled with IEDs.
Sgt Buist led his platoon forward, fighting the insurgents in the alleyways of the compound while the enemy launched a counter-attack with machine guns and grenades.
His actions were said to have secured a buffer zone around Loy Mandeh, turning the tide against the insurgents in the northern Nad-e Ali area.
The citation for Sgt Buist, from Arbroath in Angus, stated: "Buist's gallantry and inspirational leadership, in the face of great danger, not only won the tactical battle on the day, but set the pattern of the success that was to follow.
"His courage in the face of overwhelming odds on complex ground, of the enemy's choosing, was truly exceptional."
'Route to safety'
Colour Sgt Smith, 32, was serving with the Black Watch when their patrol was attacked several times from multiple positions over a period of two hours.
With the troops stuck in the open and pinned down by enemy fire, two armoured vehicles came to help but were attacked with rocket-propelled grenades and small-arms fire.
Standing up from his position of cover, Colour Sgt Smith, from Cowdenbeath in Fife, ordered another soldier to follow him with his machine gun to bring the extra firepower forward.
They manoeuvred more than 300m across uncleared ground under enemy fire to reach the stricken patrol.
He moved along the line of troops and issued target instructions while identifying a route to safety.
His citation said: "Smith's decision to expose himself to risk was instrumental to regaining control of a desperate situation.
"His courageous actions and steadfast leadership in the face of a committed and well-co-ordinated enemy set a magnificent example to the men around him and gave them courage.
"Given the accuracy and weight of the incoming fire, his gallantry was fundamental to saving the patrol before casualties were taken."