Whooping cough vaccination for pregnant women in Scotland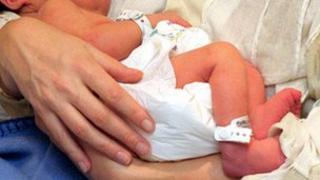 Pregnant women in Scotland are to be vaccinated against whooping cough to protect their newborn babies.
It follows a sharp rise in infection among young infants, who are most at risk of severe complications and death.
Cases of whooping cough in Scotland have soared from 61 in 2011 to 1,037 so far this year, including 65 infants who were under three months old.
The Scottish government said the temporary programme would initially run for six months from October.
The whooping cough jab boosts short-term immunity passed on by pregnant women to babies, who normally cannot be vaccinated until they are eight weeks old.
Public Health Minister Michael Matheson said whooping cough is highly contagious and can be most serious for babies under the age of one.
He said: "Over recent months we have seen an increase in cases of whooping cough, and this vaccination programme aims to give newborn babies the protection they need.
"It's also important that parents ensure their children are vaccinated through the Childhood Vaccination Programme, to help stop further spread of the virus."
Chief Medical Officer Sir Harry Burns added: "Whooping cough in older children and adults is generally mild, but it may spread to younger, more vulnerable infants and babies.
"Although no infants in Scotland have died as a result of whooping cough this year, there have been 65 cases of the disease in children under three months old.
"All children are already offered vaccination against the infection when they are eight weeks old, and uptake is very high at over 95%.
"However, very young babies cannot be vaccinated and for the first few months of life they are very vulnerable. It is vital that when there is more whooping cough circulating we do all we can protect these newborns and vaccinating pregnant women is the best way to do that."