One in seven Scots on anti-depressants, NHS figures show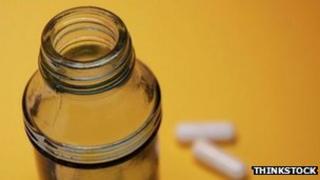 One in seven Scots are now taking anti-depressants, official figures show.
Twice as many women as men were prescribed the drugs in 2011-12 - totalling 483,431 women and 234,899 men and representing 14% of the population.
Anti-depressant prescriptions have risen across all age groups, with 24 children aged 0-4 prescribed the drugs last year, compared to 10 in 2009-10.
But statisticians urged caution over the figures, as some anti-depressants were prescribed for other conditions.
The report states: "It does not equate to people being treated for depression.
"This is because many drugs classified as anti-depressants can also used for conditions other than depression. These include but are not restricted to neuropathic pain, post-traumatic stress disorder and anxiety disorders."
Anti-depressant prescriptions have risen steadily from 1.26 million drugs dispensed in 1993-94 to 5.01 million in 2011-12.
The cost to the NHS in Scotland this year was £31.3m - more than double the cost of anti-depressant prescriptions in 1993-94, but far lower than the £58.7m bill in 2004-05.
The figures published by the NHS Information Services Division also revealed prescriptions for anti-psychotic drugs have almost doubled in the same period.
There were 817,937 prescriptions for psychoses-related drugs in 2011-12, up from 445,081 in 1993-94.
Again, female patients outstripped male patients in psychoses-related prescriptions, with 42,592 women and 35,879 men, totalling about 1.5% of the population.
Use of psychoses-related drugs are most prevalent in patients in their 40s, and their use by very young children has also risen in recent years. A total of 29 children aged 0-4 were prescribed psychoses-related drugs in 2011-12, compared with 20 in 2009-10.
The report stated: "People experiencing psychoses may report hallucinations or delusional beliefs, and may exhibit personality changes and thought disorder.
"Depending on its severity, this may be accompanied by unusual or bizarre behaviour, as well as difficulty with social interaction and impairment in carrying out daily life activities."
It added: "There is an increasing trend in the number of patients who received a drug for psychoses and related disorders, peaking at ages 45-49 and then steadily decreasing as patients get older."
And the use of drugs to treat attention deficit hyperactivity disorder, which is most commonly diagnosed in children, is now 20 times higher than it more than a decade ago, according to the report.
There were 4,115 prescriptions issued for this condition in 1995-96, rising to 84,269 in 2011-12.
Their use is most common between the ages of five and 19, and unlike anti-depressants and psychoses-related drugs, many more males (6,103) than females (1,403) were prescribed ADHD medication in 2011-12.
'Being drugged'
Conservative health spokesman Jackson Carlaw said: "It has now been several years since the SNP promised to halt the rise in people being given anti-depressants.
"What's more, drugs are being depended on to fight other mental health issues such as ADHD and dementia, when research has shown other, sometimes very straightforward therapies can be more effective.
"The idea of our very young people, and our very old, being drugged as a matter of course in either the formative or closing years of their life is completely unacceptable. The SNP has to get a handle on this before it gets even more out of control."
A Scottish government spokeswoman said: "Many of these medications enable patients who might otherwise have been disabled by their mental health condition to live a normal life in the community.
"They are effective evidence-based treatments for mental illness. Where anti-depressants are being prescribed, it is in line with good clinical practice."