Spending watchdog criticises Brian Sweeney's pension deal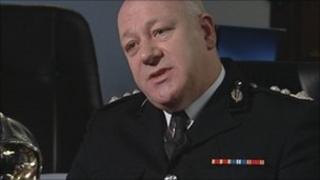 Scotland's spending watchdog has criticised Strathclyde Fire and Rescue Joint Board for "systemic failures" over the retirement and re-employment of its chief officer, Brian Sweeney.
In a 32-page report Audit Scotland said the board's processes fell short of acceptable standards and governance.
It said the public could not have confidence in the board's decisions.
South Lanarkshire Council - the joint board's lead authority - said it would discuss the findings at a meeting.
The report also criticised Mr Sweeney for co-authoring a report suggesting his retirement and re-engagement.
This was a highly contentious arrangement for the most senior officer of Scotland's largest fire and rescue service.
'Genuine desire'
It meant he was able to take a lump sum from his pension pot and draw further cash from it while effectively retaining his job.
Possible tax liabilities discovered after the deal was made mean a total of £235,000 has been set aside - but to date no money has been paid out.
The Audit Scotland findings were commissioned in response to a report from the Controller of Audit.
In June 2009, Strathclyde Fire and Rescue Board, which has 34 members representing 12 local authorities, approved the retirement and re-employment of Brian Sweeney on a fixed term contract.
Audit Scotland accepted there may have been a "genuine desire" by members of the board to retain Mr Sweeney.
It said this may have led to less than full consideration of the other choices open to them; there was no business case fully setting out alternative options.
The report said: "It was inappropriate that Mr Sweeney was a co-author of the June 2009 report which proposed his retirement and re-engagement.
"It was also inappropriate that he was present during discussion at the board meeting, given that he had a direct interest, and the clerk should have advised the board of this."
After the arrangement was made, it was discovered Her Majesty's Revenue and Customs (HMRC) could charge the board £29,000 for an "unauthorised payment".
And in April 2011, the board agreed to set aside up to £206,000 to pay Mr Sweeney's potential personal liability for that charge.
'Lack of transparency'
The report said: "Processes in place to support the board in such an important decision in April 2011, to meet the personal tax liabilities of the chief fire officer - and the decision preceding it in 2009 - were inadequate to allow the public to have confidence in these decisions."
John Baillie, who chairs the Accounts Commission, said: "The problem was that the board made decisions without considering other options, with incomplete information and a lack of transparency.
"There are reminders here for local authorities and perhaps all public bodies in Scotland on governance and transparency and on how they conduct their business."
A spokesperson for South Lanarkshire Council said: "The board notes the findings published by the Accounts Commission.
"Arrangements will be made for these findings to be discussed at a future meeting of the board."
A Scottish government spokeswoman said: "This was entirely a matter for Strathclyde Fire and Rescue Joint Board. We welcome this report and expect all boards to follow proper procedures and ensure they are fully informed before making decisions."